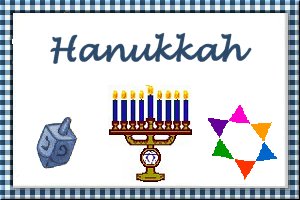 Cheesy Potato Kugel
Submitted by: Sandi
3 pounds peeled and shredded potatoes
4 eggs
Salt and pepper to taste
1/4 cup and 1 tablespoon olive oil
1 onion, chopped
2 1/2 cups cheddar cheese, shredded
Preheat oven to 350 degrees. Grease a 9x5 inch loaf pan. Place potatoes in a colander and squeeze out moisture. In a large bowl combine eggs, salt, pepper, oil and onion. Place potatoes and cheese in the bowl and mix well. Pour mixture into the prepared loaf pan. Bake at 350 degrees for 1 hour. Raise heat to 450 degrees and bake for 5 to 10 minutes until browned, serve hot. Makes 12 servings

Sufganiot
Submitted by: Sandi
2 1/2 teaspoons active dry yeast
1/4 cup white sugar
3/4 cup warm milk (110 degrees)
2 1/2 cups all-purpose flour
2 egg yolks
1/4 teaspoon salt
1 teaspoon ground nutmeg
2 tablespoons butter, softened
1/2 cup drained cottage cheese
1 egg
2 tablespoons white sugar
1 teaspoon vanilla extract
2 cups vegetable oil
1/2 cup confectioners' sugar
Dissolve the yeast and 2 tablespoons white sugar in the warm milk. Sift flour into a large bowl, make a well in the center and add the yeast mixture, egg yolks, salt, nutmeg, butter and remaining sugar. Stir flour into center. Once combined turn dough out onto a lightly floured surface knead until dough is elastic. Cover and let dough rise overnight in the refrigerator. Remove dough from the refrigerator and roll on a lightly floured surface to 1/8 to 1/4 inch thick. Cut into 2 inch rounds. Cover and let rise for about 15 to 20 minutes. In a medium bowl combine the cottage cheese, egg, 3 tablespoons white sugar and vanilla. Beat until well combined. Form dough rounds into a ball and insert about 2 teaspoons of cheese filling into half of the rounds and 2 teaspoons of preserves into the other half. In a heavy pot, pour in oil to about the 2 1/2 inch mark. Heat to 375 degrees. Drop sufganiot (doughnuts) into the oil, turning when browned. Drain on paper towels and roll in confectioners' sugar.

Vegetable and Feta Latkes
Submitted by: Sandi
2 1/2 cups grated zucchini
1 cup peeled and shredded potatoes
1 cup shredded carrots
1/2 teaspoon salt
3 eggs, lightly beaten
Salt to taste
Freshly ground black pepper
3/4 cup matzo meal
1/2 cup chopped fresh parsley
1/2 cup crumbled feta cheese
1/4 cup vegetable oil

Place the zucchini, potato and carrots in a colander, place paper towels or a cheesecloth over the top and squeeze out as much moisture as possible. Sprinkle salt over the vegetables and let them drain for 15 minutes. Squeeze vegetable again in paper towels. In a large mixing bowl combine eggs, vegetables, salt and pepper. Mix well. Stir in matzoh meal or flour, parsley and feta. Heat vegetable oil in a large frying pan. Place vegetable mixture, formed into pancake sized cakes in hot oil and fry until golden brown on both sides. (Cook two to three minutes per side). Add more oil as needed to keep cakes frying up well. Drain fried latkes on paper towels

To submit your favorite recipes to be included in the Garden of Friendship Recipe Book, please email them to Barbiel
Background graphics made especially for the Recipes Committee of the Garden of Friendship by Valatine