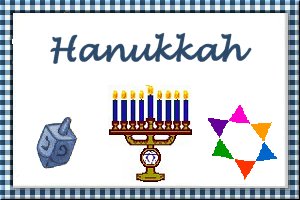 Chopped Liver
Submitted by: Barbiel
1 lb. calves liver, about 3 slices
3 small onions
3 hard boiled eggs
salt and pepper to taste
Slice and brown onions in shortening. Then brown liver until done, not too dry. Grind liver, eggs, onions alternately 2 times. Add seasoning to taste. Makes 2 - 4 servings.

Stuffed Beef Brisket
(Recipe Source: Better Homes and Gardens)
Submitted by: Molly
1/2 cup chopped dried figs or prunes (3 ounces)
1/4 cup Brandy
1 large leek, white and pale green part only or 1 medium onion, chopped (1/2 cup)
2 teaspoons Olive oil
1 small pear, cored and finely chopped
2 cloves garlic, minced
1/4 cup chopped toasted pecans
2 tablespoons fine matzo crumbs
1 teaspoon finely shredded lime peel
1/2 teaspoon dried thyme
1/4 to 1/2 teaspoon coarse ground black pepper
one 2 1/2 to 3 pound beef brisket
2 tablespoons Olive oil
Place dried fruit and Brandy in a small saucepan and place over low heat just until hot (do not boil). Remove from heat, cover and let stand for 15 to 20 minutes or until fruit is plumped and most of the liquid is absored. Meanwhile, cook leek or onion in the 2 teaspoons Olive oil in a medium skillet until tender. Add any remaining brandy from soaking fruit, pear, and garlic. Cook and stir until tender. Add plumped fruit to pear mixture along with pecans, matzo crumbs, lemon peel, thyme and pepper. Cut a lengthwise slit down the center, but not through the bottom, of the beef brisket. Spread open. Pound entire surface lightly with the flat side of a meat mallet until about 1/2 inch thick. Season lightly with salt and pepper. Spread fruit mixture over meat to within 1/2 inch of edges. Starting from a long edge, rolll up meat and fruit mixture. Tie with string at 1-inch intervals. Brown meat in the 2 tablespoons Olive oil in a large skillet or Dutch oven. Place on a rack in a roasting pan. Roast in a 375°F oven about 40 minutes or until meat thermometer inserted near the meat's center registers 140°F. Transfer to a platter and cover with foil. Let stand 10 minutes before slicing and serving (temperature of the meat will rise 5°F during standing). Makes 8 servings.

Azorean Double-Marinated Quail
Submitted by: Barbiel
four 4-ounce quail, fresh or defrosted
water mixed with white vinegar
3 garlic cloves, peeled and crushed with 1 teaspoon of salt
2 teaspoons sweet paprika
1/2 teaspoon hot Spanish or Hungarian paprika, or more to taste
1 tablespoon vinegar
6 fluid ounces domestic beer
1/4 cup Olive oil
coarse salt
sprigs of parsley or watercress as garnish
8 lemon wedges

Cut the quail in half with shears. Wash the halves in the vinegared water, drain, and pat dry with kitchen towels. Combine the crushed garlic and paprikas, and rub the mixture over the quail. Combine the 1 tablespoon of vinegar and the beer in a bowl, add the quail, and marinate in the refrigerator for at least 8 hours, turning occasionally. Put the quail, marinade, and Olive oil in a large skillet and bring to a boil. Reduce the heat to medium and cook, covered, for 10 to 15 minutes. Transfer the quail to a deep bowl. Boil the cooking liquid until it's reduced enough to coat the back of spoon. Add more hot paprika to taste. Pour the cooking liquid over the quail, cool to room temperature, cover, and refrigerate for up to 2 days. Preheat the oven to broil. Remove the quail from the cooking liquid and, without drying, broil them close to the heat, turning once and basting with the liquid until crisp and well browned. Serve at once, sprinkled with coarse salt and surrounded by parsley and lemon wedges. Makes 4 servings.
Note: When ready to serve, the quail may be broiled or grilled quickly until the skin crisps.

To submit your favorite recipes to be included in the Garden of Friendship Recipe Book, please email them to Barbiel
Background graphics made especially for the Recipes Committee of the Garden of Friendship by Valatine