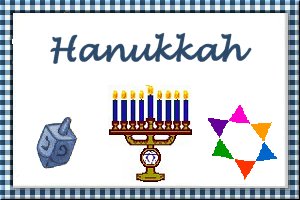 Sweet Potato Latkes
Submitted by: IrishCream

2 sweet potatoes, peeled and shredded
2 eggs, lightly beaten
1 tablespoon brown sugar
2 tablespoons all-purpose flour
2 teaspoons ground cloves
2 teaspoons ground cinnamon
1/4 cup vegetable oil for frying
Place sweet potatoes in a colander. Place a cheesecloth over the potatoes, and squeeze the potatoes to release as much liquid as possible. Let the potatoes sit to release more liquid, then squeeze again. In a large bowl, combine sweet potatoes, eggs, brown sugar, flour, cloves and cinnamon. Mix well. Heat oil in large heavy skillet to 375°F (190°C). Form mixture into pancake size cakes, and fry in hot oil. Flip cakes after 2 to 3 minutes (when bottom is browned) and brown other side. Drain on paper towels, and serve piping hot!

Fudgy Hanukkah Cake
(Low-Fat Cake)
Submitted by: Ginadapooh
1 1/2 cup brown sugar, packed
1 1/4 cup all purpose flour
1/2 cup unsweetened sifted Cocoa powder
1 1/2 teaspoon baking soda
3/4 teaspoon baking powder
1 pinch cinnamon
1 pinch salt
1 egg
1 egg white
3/4 cup Buttermilk
3/4 cup strong Coffee
1/3 cup vegetable oil
In bowl, combine brown sugar, flour, cocoa, baking soda and baking powder, cinnamon and salt. In separate bowl, beat together egg and egg white; beat in Buttermilk, coffee and oil. Make a well in sugar mixture; pour coffee mixture into well and whisk just till blended. Pour into greased 8" square cake pans. Bake in 350°F oven for 30 to 40 min or till tester inserted into center comes out clean and cake springs back when pressed. Let cool in pan on rack for 20 minutes.
Icing
1/4 cup unsweetened sifted Cocoa powder
4 teaspoon granulated sugar
4 teaspoon cornstarch
1/2 cup skim milk
1/4 cup corn syrup
1 teaspoon Vanilla
edible gold glitter opt or coconut
In small saucepan, combine cocoa, sugar and cornstarch. Whisk in milk until blended, then corn syrup and vanilla. Bring to boil over medium-high heat, whisking constantly, reduce heat to low and cook, whisking for 1 to 2 minutes or till thickened and glossy. Let cool for 5 minutes. Spread evenly over cake. Sprinkle with glitter if desired.

No Yeast Mini Doughnuts
Submitted by: KatjaGirl
1 egg
2 tablespoons sugar
1 cup self-rising flour
2 tablespoons Cream cheese
2 tablespoons yoghurt or eshel
1 package (10 g) Vanilla sugar
grated lemon rind
oil to fry
Mix egg and sugar. Add remaining ingredients and beat well. Drop spoonfuls into hot oil. Fry quickly, drain and roll in icing sugar.

To submit your favorite recipes to be included in the Garden of Friendship Recipe Book, please email them to Barbiel
Background graphics made especially for the Recipes Committee of the Garden of Friendship by Valatine