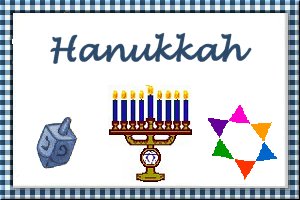 Low-Fat Hanukkah Fudge Cake
Submitted by: Vadi
1 1/2 cup brown sugar, packed
1 1/4 cup flour
1/2 cup cocoa powder; unsweetened and sifted
1 1/2 teaspoons baking soda
3/4 teaspoon baking powder
pinch of cinnamon
pinch of salt
3 egg whites
3/4 cup buttermilk
3/4 cup strong coffee
1/3 cup Olive oil
Icing (see recipe below)
In a bowl, combine brown sugar, flour, cocoa, baking soda and baking powder, cinnamon and salt. In a separate bowl, whisk egg whites. Beat in buttermilk, coffee and Olive oil. Make a well in sugar mixture. Pour coffee mixture into well and whisk just until blended. Pour into 8-inch square pans sprayed with non-stick spray. Bake in a 350°F oven for 30 to 40 minutes or until a tester or a toothpick inserted into center comes out clean and cake springs back when pressed lightly in the center. Let cool in pan on rack for 20 minutes. Cover cake with Icing.
Icing:
1/4 cup cocoa powder, unsweetened and sifted
4 teaspoons sugar
4 teaspoons cornstarch
1/2 cup skim milk
1/4 cup corn syrup
1 teaspoon Vanilla
edible gold glitter or coconut, optional
In a small saucepan, combine cocoa, sugar and cornstarch. Whisk in milk until blended, then corn syrup and Vanilla. Bring to a boil over medium-high heat, whisking constantly, reduce heat to low and cook, whisking for one to two minutes longer or until thickened and glossy. Cool for five minutes. Spread evenly over cake. Sprinkle with glitter if desired.

Chocolate Challah
(Recipe Source: Better Homes and Gardens)
Submitted by: Molly
2 3/4 to 3 1/4 cups all-purpose flour
1/3 cup unsweetened cocoa powder
1 package active dry yeast
3/4 cup soy milk
1/2 cup sugar
1/4 cup margarine (at least 80 percent vegetable oil)
1/2 teaspoon salt
1 egg
1/2 cup chopped pecans
1/4 cup chopped pitted dates
1 tablespoon finely shredded orange peel
Three Glazes (see recipe below)
In a large mixing bowl stir together 1 cup of the flour, the cocoa powder, and yeast. Set aside. In a medium saucepan heat soy milk, sugar, margarine, and salt just until warm (120° to 130°F) and margarine almost melts. Add milk mixture to flour mixture. Add egg, beat with an electric mixer on low to medium speed for 30 seconds, scraping the side of the bowl constantly. Beat on high speed for 3 minutes. Using a wooden spoon, stir in pecans, chopped dates, and orange peel. Stir in as much of the remaining flour as you can. Turn dough out onto a lightly floured surface. Knead in enough of the remaining flour to make a moderately soft dough that is smooth and elastic (about 4 minutes). Shape dough into ball. Place in a lightly greased bowl. Turn once to grease the surface. Cover and let rise in a warm place until double in size (about 1-1/2 hours). Punch dough down. Turn dough onto a lightly floured surface. Divide dough into thirds. Cover and let rest for 10 minutes. Shape each portion of dough into a 16-inch-long rope (3 ropes total). Place the ropes about 1 inch apart on a lightly greased baking sheet. Starting in the middle of ropes, loosely braid by bringing the left rope under the center rope. Next bring right rope under the new center rope. Repeat to the end. On the other end, braid by bringing alternate ropes over center rope. Press ends together to seal, tuck under. Cover and let rise in a warm place until nearly double (about 1 hour). Bake in 325°F oven about 35 minutes or until bread sounds hollow when lightly tapped (if necessary, cover loosely with foil the last 10 to 15 minutes of baking to prevent overbrowning). Remove from baking sheet. Cool on wire rack. Drizzle with Three Glazes. Makes 24 servings.
Three Glazes:
In a medium mixing bowl stir together 1 1/2 cups sifted powdered sugar and 4 teaspoons softened margarine. Add enough warm water (1 to 2 tablespoons) to make icing of drizzling consistency. Divide icing evenly into 3 portions. To 1 portion, stir in 1 teaspoon unsweetened cocoa powder, adding more warm water 1 drop at a time, if necessary, until icing is of drizzling consistency. For another portion, combine 1/4 teaspoon instant coffee crystals and a few drops hot water until coffee is dissolved. Add coffee mixture to powdered sugar mixture, adding more warm water a drop at a time, if necessary, until mixture reaches drizzling consistency. Leave the third portion white. Use to glaze the bread.
Make-Ahead Tip: Prepare challah but do not glaze. Wrap in foil and place in large freezer container or 2-gallon plastic freezer bag. Seal, label, and freeze up to 1 month. Thaw 2 hours at room temperature before glazing.

Spiced Potato Donuts
Submitted by: Merribuck
3 1/2 cups all-purpose flour
4 teaspoons double-acting baking powder
1 teaspoon salt
2 teaspoons ground cinnamon
1 teaspoon freshly grated nutmeg
2 large eggs
3 tablespoons unsalted butter, melted
3/4 cup sugar
1 1/2 cups mashed cooked baking potatoes, like russets, (about 1 pound)
1/2 cup milk
2 teaspoons freshly grated orange zest, if desired
1 teaspoon vanilla
vegetable oil, for frying
Coating (recipe below)
Into a bowl sift the flour, the baking powder, the salt, the cinnamon, and the nutmeg. In a small bowl whisk together the eggs, the butter, the sugar, the potatoes, the milk, the zest, and the vanilla until the mixture is combined well, add the potato mixture to the flour mixture, and stir the dough until it is just combined. Chill the dough, covered, for 1 hour, or until it is cold and can be handled easily. Roll out half the dough 1/2-inch thick on a well-floured surface and with a 3 to 3 1/2-inch doughnut cutter cut out doughnuts, reserving the center pieces. With the other half of the dough either cut out round doughnuts in the same manner or shape the dough into crullers. For the crullers, roll the dough into a 1/2-inch-thick rectangle about 14 by 5-inches and cut into 5 by 1/2-inch strips. To form each cruller, twist 2 strips of dough together, and pinch the ends to secure them. Fry the round doughnuts, the reserved doughnut centers, and the crullers in batches in 2 inches of 375°F oil, or until they are golden, transferring them as they are fried to paper towels to drain.
Coating:
1/2 cup sugar
1/2 teaspoon ground cinnamon, or, to taste
In a shallow bowl stir together the sugar and the cinnamon
While the doughnuts are still warm, roll them, one at a time, in the sugar mixture, coating them well. The doughnuts keep, wrapped in plastic wrap, for one day.

To submit your favorite recipes to be included in the Garden of Friendship Recipe Book, please email them to Barbiel
Background graphics made especially for the Recipes Committee of the Garden of Friendship by Valatine