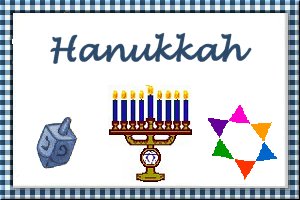 Hanukkah Bread
Submitted by: Vadi
2 tablespoons butter
2 cups milk
1 1/2 teaspoons salt
1/2 cup dark molasses
2 cups Sourdough starter (see Note below)
1/3 cup brown sugar, firmly packed
1 1/2 cups whole-bran cereal
4 cups rye flour, medium grind
5 1/2 cups all-purpose flour
1 egg yolk mixed with 1 tablespoon water
In a pan melt the butter, stir in the milk, salt and molasses. Add the 2 cups of sourdough starter sponge, bran cereal, rye flour and 2 cups of the all-purpose flour. Beat until very well blended. Now work in the rest of the flour as needed to knead the dough until smooth and elastic. Turn out onto a lightly floured board and knead for about 10 minutes. Put into a well-greased bowl, cover and let rise until double in size. Punch down dough. Grease a couple of cookie sheets. Make dough into 3 round loaves. Flatten them slightly. Let rise again until double in size. With a sharp knife cut 1/2-inch slashes on top of each loaf. Brush with the egg yolk mixture. Bake in a 350°F oven for 40 minutes or until golden brown.
Note: Sourdough: Take starter out of refrigerator the night before. Put 2 cups water in a large bowl, add the original starter and 2 cups of flour and 1 tablespoon sugar. Mix well. Cover and let set overnight. Next morning take out the original starter and return it to the refrigerator for future use. Use what is left in the bowl for your bread.

Spinach and Tangerine Salad
Submitted by: AngelBreath
8 cups young spinach, torn into bite sized pieces
1 bunch green onions, sliced
4 seedless tangerines, peeled and separated into sections
1 cup dried cranberries
1/2 cup Olive oil
1/3 cup Balsamic vinegar
salt and pepper to taste
In large bowl combine spinach, onions, tangerines and cranberries. Whisk together oil and vinegar and toss with salad just before serving. Season with salt and pepper. Makes 8 - 10 servings

Farfel-Potato Soup
Submitted by: Barbiel
2 tablespoons butter or margarine
1 medium-sized onion, finely chopped
3 cups hot water
1 1/2 to 2 cups peeled and diced (1/2 inch cubes) "new" potatoes
or all purpose potatoes (about 2 medium-sized potatoes)
2/3 cup barley-shaped noodles or farfel
3/4 teaspoon salt
pinch of ground white pepper
1 cup instant nonfat dry milk powder
1 cup cool water
In a 2 1/2-quart or larger saucepan, over medium-high heat, melt the butter. Cook the onion, stirring, until it is tender but not browned. Add the hot water, raise the heat to high, and bring the water to a boil. Stir in the potato cubes, barley-shaped noodles, salt and pepper. Lower the heat and simmer the soup, covered, for 20 minutes, or until the potatoes are tender. Mix together the milk powder and cool water until smooth. Stir this into the hot soup and continue heating until it simmers, about 2 minutes longer. Serve hot. Yield: 5 to 6 servings.
Note: This soup gets thicker upon standing. When reheating leftovers, stir in some milk or water if the soup is too thick.

To submit your favorite recipes to be included in the Garden of Friendship Recipe Book, please email them to Barbiel
Background graphics made especially for the Recipes Committee of the Garden of Friendship by Valatine