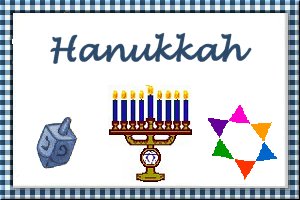 Traditional Latkes
Submitted by: Vadi
2 cups grated raw potatoes (such as Baker, Idaho, Russet or Yukon Gold)
2 eggs
1 teaspoon baking powder
1 1/2 teaspoons salt
pepper and paprika to taste
1 tablespoon flour
1 small onion (or a tablespoon ofdehydrated onions)
oil for frying
Grate potatoes and drain well. Blend all remaining ingredients. Heat oil in large skillet and fry till brown on both sides. Serve with Applesauce or Sour Cream.
Note: This is a traditional recipe for potato pancakes otherwise known as Latkes.

Sweet-and-Sour Cabbage Soup
Submitted by: Barbiel
2 pounds top rib (flat brisket)
1 quart light beef broth
1 quart water
2 onions, diced
3 cups tinned tomatoes, finely chopped, with their juice
1 cup tomato sauce
2 pounds cabbage, coarsely shredded or very thinly sliced
1 teaspoon sour salt
1/2 teaspoon freshly ground black pepper, or to taste
2 tablespoons sugar
3 tablespoons golden raisins
Combine the top rib, broth, and water in a 10-quart soup pot or kettle. Bring to a boil over moderate heat and skim off the gray residue for 5 minutes, or until every last bit of residue has been cleaned off the top. Add the onions, tomatoes, tomato sauce, cabbage, sour salt, black pepper, and sugar. Bring to a boil, stirring occasionally, then cover and simmer 3 hours, until the meat is very tender. Stir in the raisins, set the lid to the pot slightly askew, and simmer 20 minutes. Taste, correct the seasoning, adding additional salt and pepper as necessary. Serve the soup with boiled potatoes, a side of meat accompanied by a good strong horseradish, and dark bread. Yield: 8 servings.

Title
Submitted by:
Ingredients
Ingredients
Instructions

To submit your favorite recipes to be included in the Garden of Friendship Recipe Book, please email them to Barbiel
Background graphics made especially for the Recipes Committee of the Garden of Friendship by Valatine