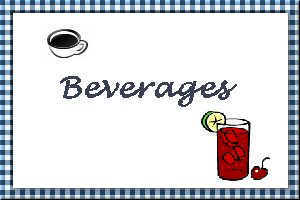 How To Make Tea of All Types
Submitted by: Kathie
Your favorite tea mixture
water
If you follow these six rules carefully, you will always make a delicious and invigorating cup of tea.
1. Don't use water that has boiled too long, it will be flat.
2. Don't make tea with water that isn't boiling vigorously.
3. Don't forget to warm and dry the teapot before you put in the leaves.
4 Don't steep the leaves any longer than six minutes. If you aren't going to drink the tea immediately, pour it off the leaves into another warm teapot and keep in a warm place.
5. Don't put fresh leaves into the pot without first throwing out the old ones and rinsing and drying the teapot.
6. Don't keep the teapot standing for a long time, adding more and more fresh water until the leaves are exhausted.This is bad for you because each successive brewing brings more tannin out of the leaves. If you run out of tea, always brew a fresh pot.

Old-Fashioned Hot Chocolate
Submitted by: Jezebel Jen
2 1-ounce squares unsweetened chocolate
1 1/3 cups boiling water
1 quart milk
1/3 cup sugar
Pinch of salt
1/2 teaspoon vanilla extract
Marshmallows or whipped cream (optional)
Place chocolate in top of a double boiler; bring water to a boil. Reduce heat to low; cook until chocolate melts. Gradually add 1 1/3 cups boiling water to chocolate, stirring constantly. Remove from heat, set aside. Heat milk in a heavy saucepan just until thoroughly heated (do not boil). Stir in sugar and salt; add chocolate mixture, stirring well. Cook over low heat, stirring occasionally. Remove from heat; stir in vanilla. Top with marshmallows or whipped cream, if desired. Yield: 6 cups.

Mexican Mocca Mix
Submitted by: Claudia
3 cups instant hot chocolate mix
3 cups dry milk
1 cup instant coffee
2 teaspoons ground cinnamon
Mix together hot chocolate mix, dry milk, instant coffee, and cinnamon.

To submit your favorite recipes to be included in the Garden of Friendship Recipe Book, please email them to Barbiel
Background graphics made especially for the Recipes Committee of the Garden of Friendship by Valatine