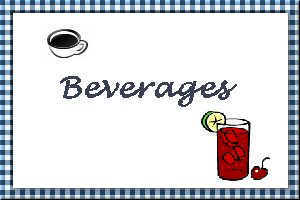 Cafe Cappuccino Flavored Coffee
Submitted by: Claudia
1/4 cup powdered creamer
1/3 cup sugar
1/4 cup instant coffee
1 orange flavored piece of hard candy
Process in a blender on liquify until well blended. Store in an air tight container. Use by tablespoonfuls according to taste. Spoon in cup and add hot water.

Homemade Hot Cocoa
Submitted by: Lady ~Debbii~
1 quart milk
1/3 cup sugar
1/4 cup cocoa
1/4 teaspoon vanilla
(or 1/2 teaspoon cinnamon)
whipped cream for topping
In saucepan, combine sugar and cocoa. Add a few tablespoons of milk and heat over medium high heat, stirring constantly. The heat will make it easier to dissolve the cocoa. When the sugar, cocoa and milk have formed a paste, add the remainder of the milk and heat until steaming. Pour into mugs, top with a bit of whipped cream and serve immediately.

Quick Individual Hot Cocoa
Submitted by: Jezebel Jen
2 teaspoons cocoa
2 teaspoons sugar
1/4 cup water
3/4 cup milk
miniature marshmallows (optional)

Combine first 3 ingredients in a small saucepan, and bring to a boil. Boil 3 minutes, stirring constantly. Stir in milk; heat just until thoroughly heated (do not boil). Top with marshmallows, if desired. Yield: 1 cup

To submit your favorite recipes to be included in the Garden of Friendship Recipe Book, please email them to Barbiel
Background graphics made especially for the Recipes Committee of the Garden of Friendship by Valatine