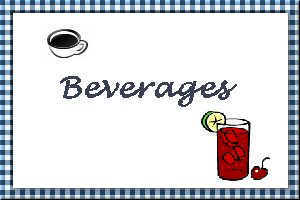 Carob Cocoa Banana
Submitted by: Barbiel
2 heaping tablespoons Carob powder
1/2 teaspoon cornstarch
12-16 oz. water
1 ripe banana
sugar to taste
Mix in a blender the Carob powder, cornstarch, banana and 1 cup of water until smooth. Wash out the blender with the remainder of the water. Heat the ingredients, stirring occasionally, and serve. Makes 2 cups.

Coco Bee
Submitted by: Barbiel
1 oz Coconut Rum
1 cup boiled water
1 teaspoon honey
2 coffee beans to decorate (optional)
Pour the boiled water and the coconut rum into a cup. Stir in honey, decorate with coffee beans and serve. Makes 1 cup.
Note: recipe can be easily doubled.

Monte Cristo
Submitted by: Barbiel
3/4 oz. Irish Cream
3/4 oz. Grand Marnier
5 oz. hot coffee
sugar to taste
lemon peel
dash of white pepper (optional)
Rub a lemon peel along the rim of the cup, then dip in some sugar. Pour the alcohol in the cup first, then add the coffee. If you like it "hot" just add the white pepper to the drink.

To submit your favorite recipes to be included in the Garden of Friendship Recipe Book, please email them to Barbiel
Background graphics made especially for the Recipes Committee of the Garden of Friendship by Valatine