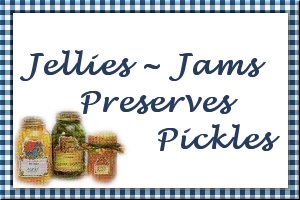 Strawberry Jam
Submitted by: Janna
4 cups granulated sugar
5 cups crushed strawberries
1/2 cup finely chopped tarragon leaves

Combine sugar & strawberries in saucepan. Bring to a boil. Add the tarragon leaves. Let simmer and stir often until thick. Skim off foam. Makes 3 1-pint jars.

Pumpkin Butter
Submitted by: Sandi
3 1/2 cups pumpkin puree
4 1/2 cups white sugar
1 tablespoon pumpkin pie spice
1 (.25-ounce) envelope unflavored gelatin
In a 2-quart saucepan, combine the pumpkin, sugar, pumpkin pie spice and gelatin; mix well. Place over medium high heat and bring to a boil. Reduce heat and simmer, stirring constantly for 5 minutes. Spoon hot pumpkin mixture into hot jars, filling to within 1/4 inch from top. Remove air bubbles; wipe jar rims. Cover at once with metal lids, and screw on bands. Process in a boiling water bath for 10 minutes. Makes 5 cups.

Mint Currant Jelly
Submitted by: Kathie Maclean-Racicot
2 teaspoon chopped fresh mint leaves
1/2 teaspoon grated orange rind
6-ounce jar any currant jelly
Remove currant jelly from jar, and place all ingredients in top of a double boiler. Stir gently until well blended. Pour jelly back into glass and cover. Refrigerate 24 hours. You can use the same method with any herb combined with any jam, jelly or honey. Yield: 1 6-ounce jar.

To submit your favorite recipes to be included in the Garden of Friendship Recipe Book, please email them to Barbiel
Background graphics made especially for the Recipes Committee of the Garden of Friendship by Valatine