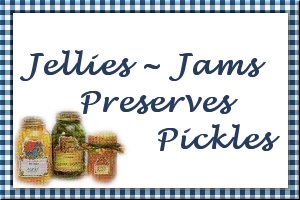 Sugar-Free Mixed Berry Jam
Submitted by: KatjaGirl
3/4 pt strawberries, hulled
3/4 pt blackberries
3/4 pt gooseberries, trimmed
1 cup apple juice concentrate
Rinse and drain berries. Place half of the berries in a blender or food processor and puree. Transfer pureed berries to a saucepan along with unprocessed berries. Simmer mixture gently until fruit is cooked. Stir in the apple juice concentrate and boil for 15 minutes, until mixture reaches setting point (220°F on a candy thermometer). Mixture is ready when a teaspoonful chilled on a saucer a few minutes in the freezer does not flow back together when you run a finger through it. Remove from heat and pour into sterilized jars. Seal according to jar manufacturer's instructions. Store in a cool place up to 4 weeks, or in the refrigerator. Serving: 3.

Tomato Jam
Submitted by: KatjaGirl
1 tablespoon Olive oil
1 clove garlic, minced
2 ounces ginger root, minced
1/4 cup cider vinegar
2 cinnamon sticks
2 cups tomatoes, peeled, seeded, chopped
1/4 cup plus 1/2 tablespoon brown sugar
1 teaspoon ground cumin
1/4 teaspoon ground cloves
1/4 teaspoon cayenne pepper
salt and black pepper to taste
1/4 cup honey
Heat a heavy saucepan. Saute garlic and ginger in oil for about 3 minutes. Add vinegar and cinnamon sticks; simmer until liquid is reduced by half. Add tomatoes, sugar, cumin, cloves and cayenne. Cook slowly about 1 hour, until all tomato juices have evaporated. Season with salt and pepper. Add honey and stir until jam is shiny and all liquid is evaporated. Remove cinnamon sticks and serve at room temperature. Serving: 8.

Tomato Jelly
Submitted by: KatjaGirl
7 lb ripe tomatoes
2 cups vinegar
1 tablespoon whole cloves
3 ea cinnamon sticks
3 tablespoons sugar
Scald and peel ripe tomoatoes. Cook 45 minutes (add no water) stirring often to prevent burning and stickiing. Strain through a sieve discarding the juice and saving the pulp. In a saucepan combine vinegar and spices tied in a spice bag. Boil for 20 minutes. Remove spice bag and add sugar and tomato pulp to vinegar. Cook slowly for 6-7 hours or until thick and sticky. Pour into sterile jars, hot water bath for 10 to 15 minutes. Yield: 1.

To submit your favorite recipes to be included in the Garden of Friendship Recipe Book, please email them to Barbiel
Background graphics made especially for the Recipes Committee of the Garden of Friendship by Valatine