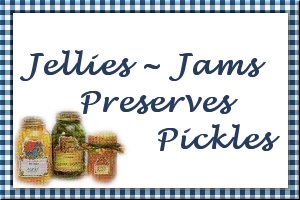 Blackberry Jam
Submitted by: Mickey Mom
5 and 3/4 cups of mashed berries
1/4 cup of lemon Juice
8 cups sugar
1 teaspoon butter
1 package of pectin
washed and hot jars with lids and rings
Washing the berries is easy this way: put them in a big pan of water and all of the bits of grasses etc...will float to the top!! Scoop these off and swish the berries around again to be sure they are clean. Run the cleaned berries through a sieve and mash them up good. *I like to throw in a hand full of whole berries into the pulp for texture. Measure out the sugar and set aside. Measure the berries, add the lemon juice and pectin. Stir it up and let sit for a few minutes so the pectin will dissolve real good. Add the butter (helps the jam from bubbling over), and bring to a full boil. Add sugar and keep stirring while you bring this to a full rolling boil that can't be stirred down. Boil for exactly 4 minutes and keep stirring so it doesn't scorch. Remove from the burner and skim off the foam with a metal spoon. Ladle into hot jars and seal. When cool, clean off jars and label. This recipe makes around 9 1/2 pts.
Note: Don't forget to share with your friends!! They do make welcome gifts. You can put a little round pinked piece of fabric around the top, tie with a ribbon and make the jars look festive.

Papaya Jelly
Submitted by: Barbiel

1 kg papayas, diced
2 cups sugar
juice from 1/2 orange
1 tablespoon Cointreau
In a microwave bowl mixture diced papayas with sugar. Microwave at high for 15 minutes. Using a fork, smash everything (ou use an electrical mixer). Add orange juice and return to microwave for more 15 minutes at high, stirring every 10 minute. Add Cointreau and microwave for 5 minuites more. Use twist-off glass to seal it.

Grape-Plum Jelly
Submitted by: BettyG
3 1/2 pounds ripe plums
3 pounds ripe Concord grapes
1 cup water
1/2 teaspoon butter or margarine (optional to reduce foaming)
8 1/2 cups sugar
1 box (1 3/4 ounces) powdered pectin
Wash and pit plums; do not peel. Thoroughly crush the plums and grapes, one layer at a time, in a saucepan with water. Bring to a boil, cover and simmer 10 minutes. Strain juice through a jelly bag or double layer of cheesecloth. Measure sugar and set aside. Combine 6 1/2 cups of juice with butter and pectin in large saucepan. Bring to a hard boil over high heat, stirring constantly. Add the sugar and return to a full rolling boil. Boil hard for 1 minute, stirring constantly. Remove from heat, quickly skim off foam and fill hot, sterile jars, leaving 1/4-inch headspace. Wipe jar rims. Adjust lids and process for 5 minutes in boiling water bath. Yield: About 10 half-pint jars.

To submit your favorite recipes to be included in the Garden of Friendship Recipe Book, please email them to Barbiel
Background graphics made especially for the Recipes Committee of the Garden of Friendship by Valatine