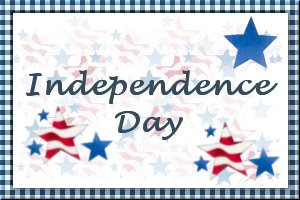 Jam Cookies
Submitted by: Wolfmama
3/4 cup margarine
2/3 cup sugar
2 egg yolks
1 tablespoon half and half
1 teaspoon vanilla
2 cup flour
strawberry preserves
Cream butter and sugar. Add egg yolks, Half and Half and vanilla. Beat about 2 minutes until fluffy. Gradually stir in flour. Shape into a ball and chill covered about 2 hours. Roll dough out to 1/4 inch thickness. Use a 2 inch scalloped cookie cutter or a star cookie cutter and cut out cookies. For half of the cookies, cut out the center of the cookies with a round small cutter. Place cookies 1 inch apart on an ungreased cookie sheet. Bake 12-15 minutes at 350°F. Cool completely. Put cookies together in pairs (1 uncut center on the bottom, 1 cookie with the center cut out on top) with jam spread on the bottom cookie. Makes 3 dozen.

United States Sugar Cookie
Submitted by: Wolfmama
2/3 cup shortening
3/4 cup sugar
1 egg
1/2 teaspoon vanilla
1/2 teaspoon grated orange peel
2 cups sifted flour
1/2 teaspoon baking powder
1/4 teaspoon salt
4 teaspoons milk
Thoroughly cream shortening and sugar. Add egg, beat until mixture is light and fluffy. Add vanilla, grated orange peel; mix thoroughly. Sift dry ingredients; stir into creamed mixture together with milk. Divide dough in half. Chill 1 hour so it's easy to handle.

Marshmallow Cookie Bars
Submitted by: Merribuck
1 package (18 oz.) refrigerated sugar cookies
4 cups miniature marshmallows
3/4 cup candy coated chocolate pieces
1/4 cup hot fudge ice cream topping, warmed
Preheat oven to 350°F. Press cookie dough in bottom of ungreased 13 x 9 inch form. Bake for 10-12 minutes or until golden brown. Remove from oven; sprinkle evenly with marshmallows. Return to oven for an additional 1-2 minutes, or until "puffy". Remove from oven. Sprinkle evenly with chocolate pieces. Drizzlewith warm ice cream topping. Cool one hour or until completely cooled. Cut into bars.

To submit your favorite recipes to be included in the Garden of Friendship Recipe Book, please email them to Barbiel
Background graphics made especially for the Recipes Committee of the Garden of Friendship by Valatine