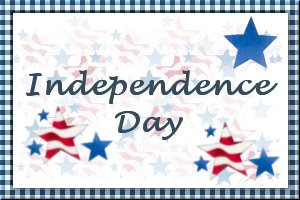 American Flag Cookies
Submitted by: katycoo
1 cup butter
1 egg white, whipped
2 teaspoon pure Vanilla extract
2 1/2 cups flour
1 1/2 cups sugar
1 1/2 teaspoons baking powder
1 teaspoon red food coloring
1 teaspoon blue food coloring
Preheat oven to 350°F. In a mixing bowl, combine butter, egg white and Vanilla extract. In a separate bowl, combine flour, sugar, and baking powder. Mix wet ingredients with dry until just moistened. Divide cookie dough into three equal portions. Tint 1 portion with the red food coloring; and another portion with the blue food coloring. Mix thoroughly. Form each portion into long bars and stack bars on top of each other using alternating colors (red, white, blue). Wrap finished cookies in waxed paper and place in the refrigerator for about an hour. Cut cookies into 1/4" thick bars. Place on greased baking sheet and bake for 10 to 12 minutes.

Almond-Strawberry Shortcake Stars
Submitted by: katycoo
2 cups flour
2 teaspoon baking powder
1/2 teaspoon salt
1/2 cups (1 stick) unsalted butter
1 (7 oz.) roll almond paste, grated
1/4 cup heavy cream
Preheat oven to 400°F. Lightly grease a baking sheet. Sift the flour with the baking powder and salt into a food processor or large bowl. Using a food processor fitted with a metal blade, or with a pastry cutter and bowl, cut the butter into the flour mixture until crumbly. Mix in the grated almond paste completely with the flour, until the mixture has the texture of instant oatmeal. Pour int he heavy cream and process, or mix with a spoon, until the shortcake forms a ball. Turn out onto a lightly floured work table and knead one minute. Roll out to a 1/4-inch thickness; cut into stars or circles as desired, and lay on the baking sheet. Gather up leftover dough and re-roll, to cut out more stars. Bake for 13 to 15 minutes until done and slightly golden around the tips. Makes 13 stars, about 3 1/2 inches across.

4th of July Lemon Bar Flags
Submitted by: Betty G
Shortbread Crust
1/2 cup (1 stick) butter , softened
1/2 cup firmly packed light-brown sugar
1 1/2 cups all purpose flour
1 teaspoon grated lemon rind
Toppings
1/4 cup confectioners sugar
1/4 cup blueberries
1 tube red gel frosting
Lemon Filling
1 1/2 cups sugar
1/2 cup lemon juice
1/2 cup water
2 tablespoons cornstarch
2 eggs
2 teaspoons grated lemon zest
Heat the oven to 350°F. Grease a 9-inch square baking pan. Prepare the shortbread crust: In a large bowl, with an electric mixer on medium speed, beat the butter and brown sugar until light and fluffy. Reduce the mixer speed low, and beat in the flour and lemon rind until well combined. Put the mixture evenly into the prepared pan. Bake the crust 15 minutes, or until golden. Cool the crust in the pan on a wire rack. Meanwhile, prepare the Lemon Filling: In a 2-quart saucepan, mix 1 cup granulated sugar, the lemon juice, water, and cornstarch until well combined. Heat the mixture to boiling over medium-high heat, stirring constantly. Cook 1 to 2 minutes longer or until the mixture thickens. Remove from the heat. In a medium-size bowl, with a wire whisk, beat the remaining 1/2 cup granulated sugar, eggs and the lemon rind until thick and lemon colored. Slowly beat the lemon mixture into the egg mixture until well combined. Pour the filling into the prepared crust. Bake the cookies 15 to 20 minutes, or until the filling is firm. Cool the cookies completely in the pan on a wire rack. Cut the cookies into 6 rectangular bars. Place the bars on a serving plate. Sprinkle confectioners sugar over the cookies. Create stripes across the bars with the red gel frosting. Place 6 blueberries in the top corner of each bar.

To submit your favorite recipes to be included in the Garden of Friendship Recipe Book, please email them to Barbiel
Background graphics made especially for the Recipes Committee of the Garden of Friendship by Valatine