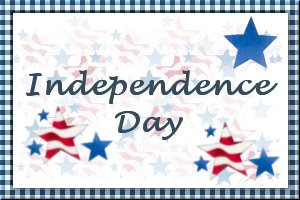 American Flag Cake
Submitted by: Barbiel

margarine to grease
flour to dust
1 package (2 layer size) white cake mix
(plus ingredients to make cake-listed on box)
1 package (4 serving size) JELL-O brand gelatin
(any red flavor)
1 cup boiling water
1/2 cup cold water
3 1/2 cups (8-ounce container) Cool Whip brand whipped topping, thawed
1 pint strawberries, washed and sliced
1 cup blueberries, washed
1 cup Kraft miniature marshmallows
Grease 13 x 9 pan with margarine and dust lightly with flour. Prepare, mix and bake cake mix according to package directions. Cool cake for 15 minutes. With large fork, make holes in cake about every 1/2 inch. Pour gelatin into mixing bowl. Add cup of boiling water and use scraper to mix thoroughly until gelatin is completely dissolved. Use measuring cup to pour gelatin over cake (it will run down into holes, making sliced cake have red stripes. Chill cake in refrigerator 3 to 4 hours. Cover tray with aluminum foil. Put about one inch of warm water in kitchen sink. Take pan out of refrigerator and dip bottom (don't let water come up over sides) into water for about 10 seconds. Put large tray on top of cake, and invert. Frost sides and top with whipped topping. Arrange strawberries and marshmallows in alternating rows for stripes, leaving upper left for field of blueberries. Chill again until time to serve.

Baked Bananas
Submitted by: Cricket
2 tablespoons butter
4 large ripe bananas, peeled
1/4 cup packed brown sugar
1 1/2 teaspoons cinnamon
1/2 cup medium-dry sherry
vanilla ice cream
Melt the butter in a skillet over medium heat. Add the bananas. Cook until browned on both sides. Combine the brown sugar and cinnamon in a bowl. Sprinkle over the bananas. Stir in the sherry. Simmer, covered, for 4 minutes or until the bananas are tender. Serve with vanilla ice cream. Serves 4.

White Chocolate Tart
Submitted by: LadyLynda
1--9 inch pie crust prebaked
3 ounces white chocolate, melted
2 eggs and 2 egg yolks
1 and 1/3 cups buttermilk
1 tablespoon lemon juice
1 teaspoon lemon zest
1/3 cup brown sugar
2 tablespoons flour
1 teaspoon vanilla
Melt white chocolate either in a double boiler or in the microwave, being careful not to scorch. Pour into pie crust. Combine eggs, egg yolks, buttermilk, lemon juice and zest, brown sugar, flour and vanilla and cook over low heat in a saucepan until it starts to thicken a little. Pour over white chocolate in the pie crust and bake at 350°F for about 30 minutes. Cool before serving. Makes one pie 1--9 inch.
Note: You may also wish to garnish with fresh raspberries, blueberries, blackberries or strawberries.

To submit your favorite recipes to be included in the Garden of Friendship Recipe Book, please email them to Barbiel
Background graphics made especially for the Recipes Committee of the Garden of Friendship by Valatine