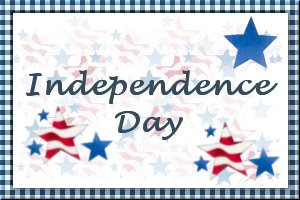 Fruity Tapioca
Submitted by: Cricket
2 - 3 oz. packages tapioca pudding
2 cups orange juice
3/4 cup pineapple juice
1 can chunk pineapple, with juice
1 cup seedless or seeded tangerine sections
1 cup seedless green grapes
2 cups sliced bananas
3/4 cup whipped topping
Cook tapioca pudding then mix with orange and pineapple juice. Let it cool. Add remaining ingredients and refrigerate for several hours. Makes 4 servings.
Note: This dessert is light and tasty.

Fourth of July Flag
Submitted by: KatjaGirl
8 ounces cream cheese (regular, low- or non-fat)
4 ounces plain yogurt (regular, low- or non-fat)
4 ounces ricotta cheese (regular, low- or non-fat)
1/2 cup sugar
1 teaspoon vanilla
1 zest of a lemon
Mix all ingredients in processor and spread evenly into a pan or dish (approx. 9" x 13"). Garnish with blueberries for stars and garnish with raspberries or strawberries for stripes. Chill.
Note: This is a very easy, no-bake recipe to create a flag dessert within a couple of minutes.

Summer Berries with Bay Leaf Custard
Submitted by: KatjaGirl
5 egg yolks
4 tablespoons extra-fine sugar
1 cup whole milk
1-1/4 cups whipping cream
2 to 3 bay leaves, preferably fresh, plus 4 to 6 more for garnish (optional)
2 pounds mixed berries (blueberries, strawberries, raspberries, currants), cleaned
In a medium bowl, whisk the egg yolks and sugar together until pale and thick. In a small saucepan, combine the egg yolk mixture, milk, cream, and bay leaves. Heat gently over medium-low to low heat, stirring constantly until it thickens enough to leave a velvety coating on the back side of a wooden spoon (if you are using a thermometer, the custard should reach about 175°F). Do not let the mixture boil or it will curdle. Remove it from the heat as soon as you have obtained the right thickness, and continue stirring for 2 more minutes. Let cool. Leave the bay leaves in the custard while it cools. Remove the bay leaves when you are ready to serve. Place the berries in dishes, pour the custard over them, garnish with the additional bay leaves, and serve. Yield: serves 4 to 6.

To submit your favorite recipes to be included in the Garden of Friendship Recipe Book, please email them to Barbiel
Background graphics made especially for the Recipes Committee of the Garden of Friendship by Valatine