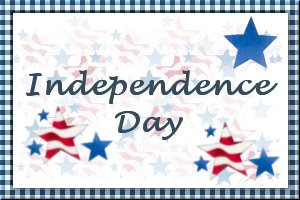 Patriotic Poke Cake
Submitted by: katycoo
2 baked 9" round white cake layers, cooled
2 cups boiling water
1 package red gelatin powder
1 package blue gelatin powder
12 ounces Cool Whip, thawed
Place cake layers, top side up, in two 9" round cake pans. Pierce cake with large fork at 1/2" intervals. Stir 1 cup of the boiling water into each flavor gelatin in separate bowls 2 minutes or until completely dissolved. Carefully pour red gelatin over 1 cake layer and blue gelatin over the other. Refrigerate 3 hours. Dip 1 cake pan in warm water 10 seconds; unmold onto serving plate. Spread with about 1 cup of the Cool Whip. Unmold second cake layer; place on first cake layer. Frost with remaining Cool Whip. Refrigerate until ready to serve.

All American Dessert
Submitted by: Shannon
1 large berry blue jello
1 large red jello, any flavor
4 cups water, boiling
2 cups water, cold
8 oz Cool Whip, thawed
4 cups Angel food cake, cubed
2 cups strawberries, sliced
1/2 cup blueberries
Dissolve berry blue jello in 2 cups of boiling water. In a separate bowl, dissolve the cherry jello. Stir 1 cup of cold water into each bowl. Pour into separate 9x13" pans. Refrigerate at least 3 hours until firm. Cut into 1/2" cubes. Place blue jello cubes in bottom of clear glass trifle bowl. Top with 1/3 of the Cool Whip. Add cake cubes, then sliced strawberries. Top with another 1/3 Cool Whip. Add the red jello cubes and then the remaining Cool Whip. Sprinkle blueberries over top.


Wild Huckleberry Pie
Submitted by: Lady Lynda
one recipe pastry for a 9 inch double crust pie
4 cups huckleberries
2 1/2 tablespoons tapioca
2/3 cup white sugar
1/4 teaspoon salt
1/2 cup packed brown sugar
1 tablespoon cider vinegar
1 tablespoon butter
Mix together the huckleberries, tapioca, sugar, salt, brown sugar, and apple cider vinegar. Pour mixture into unbaked pie shell. Dot top with butter. Add top pastry and flute edges.Bake at 400°F (205°C) for 15 minutes. Then turn oven down to 350°F (175°C) for 45-55 minutes. Longer if berries are frozen. Makes 1 - 9 inch pie (8 servings)Note: This is a good huckleberry pie and it isn't quite as sweet as some. Use fresh or frozen huckleberries

To submit your favorite recipes to be included in the Garden of Friendship Recipe Book, please email them to Barbiel
Background graphics made especially for the Recipes Committee of the Garden of Friendship by Valatine