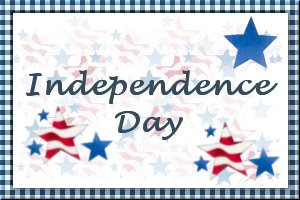 Red Bean Salad
Submitted by: Merribuck
2 (15-ounce) cans dark red kidney beans
(rinsed and drained well)
1 red bell pepper, seeded and chopped
3 scallions, chopped, whites and greens
1 rib celery, chopped
1/4 cup (a couple of handfuls) chopped flat-leaf parsley
1 cup sweet red pepper relish
2 tablespoons light Olive oil or vegetable oil
(2 turns around the bowl in a thin stream)
1 tablespoon (2 splashes) white distilled vinegar
coarse salt and pepper
Combine all ingredients in a medium bowl and toss well. Adjust seasonings. Serves 4.

Easy Easy Pasta Salad
Submitted by: Merribuck
1 pound bow tie pasta
Mayonnaise
1 1/2 cups frozen peas, thawed
4 celery hearts with the leaves, chopped
1 tablespoon celery seed (optional)
dried tarragon to taste
salt and pepper to taste
Cook pasta according to package directions, drain. In a large mixing bowl, while still hot, toss with peas. Using a large spoon add mayonnaise until desired consistency is reached. Add tarragon, salt and pepper to taste. Refrigerate until cool. Serves 4-6.

Red White and Blue Potato Salad
Submitted by: katycoo
1 or 2 slices of bacon or pancetta (optional)
3 tablespoons Mayonnaise, or more if needed
1 tablespoon Dijon mustard, or more to taste
1 tablespoon tarragon vinegar or distilled white vinegar, or more to taste
1 tablespoon capers with their juices
2 scallions, both white and green parts, trimmed, finely chopped (set aside 2 tablespoons scallion greens for garnish)
1 1/2 pounds red, white, and Peruvian blue fingerling potatoes
1 1/2 tablespoons Olive oil
plenty of course salt (kosher or sea) and freshly ground black pepper
1 cup wood chips or chunks (preferably hickory or oak), soaked for 1 hour in water to cover, then drained
an aluminum foil drop pan large enough to hold the potatoes
Cut the bacon, if using, into 1/4" slivers, put it in a small nonstick frying pan, and cook over medium heat until lightly browned and the fat is rendered, 3 to 4 minutes. Using a slotted spoon, transfer the cooked bacon to paper towels to drain. Make the salad dressing: Place the Mayonnaise, mustard, vinegar, capers, scallions, and bacon, if using, in a large nonreactive serving bowl and whisk to mix. Set the salad dressing aside. Scrub the potatoes with a brush, but leave the skins on. Place the potatoes in an aluminum foil drip pan. Drizzle with the Olive oil and season very generously with salt and pepper. Toss the potatoes to mix. Set up the grill for indirect grilling and preheat to medium-high. If using a gas grill, place all the wood chips or chunks in the smoker box or in a smoker pouch and preheat on high until you see smoke, then reduce the heat to medium-high. When ready to cook, if using a charcoal grill, toss all the wood chips or chunks on the coals. Place the pan with the potatoes in the center of the hot grate, away from the heat. Cover the grill and cook the potatoes until tender, about 40 minutes. To test for doneness, insert a metal skewer into a potato; it should pierce it easily. Remove the pan with the potatoes from the grill and let cool. Cut any large potatoes in quarters; cut medium size potatoes in half. Leave small potatoes whole. Add the potatoes to the salad dressing and toss to mix. Taste for seasoning, adding salt, mustard, or vinegar as necessary. The salad should be highly seasoned. If the salad is too dry, add a little more mayonnaise. Sprinkle with the reserved salad greens and serve at once. Serves 4-6.

To submit your favorite recipes to be included in the Garden of Friendship Recipe Book, please email them to Barbiel
Background graphics made especially for the Recipes Committee of the Garden of Friendship by Valatine