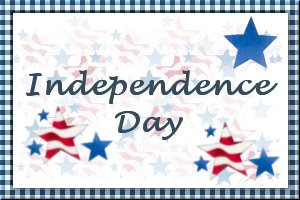 Potato Kabobs
Submitted by: KatjaGirl
12 -16 baby potatoes
1 onion, cut into quarters
1 sweet pepper, cut in large pieces
1/2 pineapple, cut into triangles
125 g lean bacon, cut in strips
Basting:
2 teaspoons Olive oil
1 tablespoon Balsamic (or red wine vinegar)
1 teaspoon honey

Boil the baby potatoes for 10 minutes or until almost done. Thread the potatoes and other ingredients onto four skewers. Mix the ingredients for the basting. Grill the kebabs over a fire or under an oven-grill for 10 minutes while basting regularly. Makes 4 servings.

Grilled Wrapped Shrimp
Submitted by: Cricket
1 pound large shelled and deveined shrimp
bacon enough for 1 slice per shrimp
1/4 cup virgin Olive oil
1 tablespoon diced garlic
1/2 cup lime juice
wooden toothpicks one per shrimp

Clean the shrimp. Mix together Olive oil, garlic and lime juice in a bowl large enough to holsd the shrimp. Coat shrimp completely with mixture and cover. let the shrimp marinate in the refridgerator for about 2 hours. Remove shrimp and wrap in one slice of bacon securing the bacon with a wooden toothpick. When all of the shrimp are wrapped place on grill till bacon is crispy.

Chicken and Bacon Shish Kabobs
Submitted by: CajunSue
1/4 cup Soy sauce
1/4 cup Cider vinegar
2 tablespoons honey
2 tablespoons Canola oil
10 large mushrooms, cut in half
2 green onions, minced
3 skinless, boneless chicken breast halves
(cut into chunks)
1/2 pound sliced thick cut bacon, cut in half
1 (8 ounce) can pineapple chunks
In a large bowl, mix the soy sauce, cider vinegar, honey, and canola oil. Stir in the mushrooms and green onions. Place the chicken in the mixture. Cover and marinate in the refrigerator at least 1 hour. Preheat an outdoor grill for high heat, and lightly oil grate. Wrap the chicken chunks with bacon, thread onto skewers. Alternate with mushroom halves and pineapple chunks. Arrange skewers on the prepared grill. Cook 15 to 20 minutes, brushing occasionally with remaining soy sauce mixture, until bacon is crisp and chicken is no longer pink and juices run clear. Serves 4.

To submit your favorite recipes to be included in the Garden of Friendship Recipe Book, please email them to Barbiel
Background graphics made especially for the Recipes Committee of the Garden of Friendship by Valatine