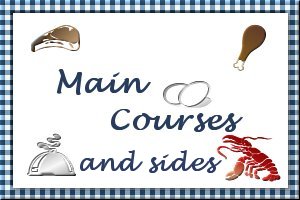 Carrots in Olive Oil
Submitted by: Vadi
1 1/2 lb. carrots
1/2 onion (one medium)
5 tablespoons Olive oil
2/3 tablespoon salt
3 tablespoons rice
5 stems of flat parsley, only leaves chopped coarsely
Peal and cut onion into four, then slice thin. Fry onions in olive oil 4-5 minutes on low heat until onions get soft. Add salt. Peal and slice carrots 1/4" thick. Add to onions. Fry 4 minutes more. Add 1 1/2 cup water. Bring to boil, cover and cook on low heat about 30 minutes. Then sprinkle rice on carrots. Cover and continue to cook until rice is cooked. Turn off heat and let cool covered. Add chopped parsley leaves to the cold dish, mix gently and turn to a shallow dish. Keep covered. 4-5 Servings. Serve at room temperature with Garlic Yogurt.
Garlic Yogurt:
To make garlic yogurt mix 4-5 crushed garlic cloves with 1 lb. of yogurt.
Note: Garlic yogurt is a must !

Baked Stuffed Cabbage
Submitted by: Vadi
1 large head green cabbage
1 1/2 teaspoon salt
Stuffing:
1 3/4 lb. linguica, chopped
1/2 lb. ground beef
1 cup chopped onion
1 cup chopped celery
1 cup mushrooms
1/2 cup oil
1 large clove garlic, crushed
1 teaspoon salt
1/4 teaspoon pepper
1 (12 oz.) can whole tomatoes, crushed and drained (reserve liquid)
In large saucepan, place cabbage in salted water. Simmer for 2 minutes or until leaves are pliable. Drain and cool. Place all stuffing ingredients together in large skillet. Saute on medium low heat approximately 1 hour or until fully cooked. Stir occasionally. Meanwhile, separate cabbage leaves. Chop small leaves and add to stuffing mix for flavor (you may find that the large leaves need to be thinner at the base, in order to roll. With a knife, take thin slices off the base of the stem). In each leaf place approximately 1/2 cup of cooked stuffing. Fold 2 sides over stuffing; rolling up from end. Arrange rolls, seam side down, in greased casserole dish. Pour the reserved tomato liquid over entire casserole. Cover and bake for 30 minutes at 350°F. Serves 4.

Asparagus and Shrimp Oriental
Submitted by: Molly
1 pound fresh shrimp, cooked
1 can water chestnuts
1 cup fresh mushrooms, sliced
1 medium onion, sliced
1 cup celery, sliced diagonally
1 1/2 pounds fresh asparagus, steamed
1 11 ounces can mandarin orange sections, drained
2 tablespoons vegetable oil
1/2 teaspoon salt
1/4 teaspoon freshly ground pepper
2 tablespoons sugar
2 tablespoons Soy sauce
boiled rice
Shell and devein shrimp. Drain and slice water chestnuts. Arrange shrimp, chestnuts, mushrooms, onion, celery, asparagus and oranges on large tray. Heat oil in wok or electric skillet. Add onion, celery, salt, pepper and sugar. Cook, stirring, until veg. are crisp-tender. Add asparagus and shrimp. Place mushrooms and water chestnuts over shrimp. Sprinkle with Soy sauce. Place orange sections on top. Cover; cook until mixture begins to steam. Reduce heat. Simmer about 12 minutes. Serve on rice. Yield: 6 servings.

To submit your favorite recipes to be included in the Garden of Friendship Recipe Book, please email them to Barbiel
Background graphics made especially for the Recipes Committee of the Garden of Friendship by Valatine