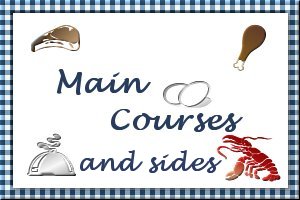 Barbiel's Seafood Risotto
Submitted by: Barbiel
250 g Basmati rice
2 small onions, diced
1 garlic clove, minced
500 ml Fish sauce
2 tablespoons Olive oil
2 tablespoons tomato extract
Marinade:
juice from one lemon
500 g mixed seafood (fresh or frozen)
250 g shrimps
salt and pepper to taste
2 tomatoes diced
Sauce:
250 ml unsweetened Coconut cream
chive, minced
fresh coriander for garnish
Make the marinade and add seafood and shrimps. Leave it 6 hours in refrigerator. Wash rice in warm water. Heat Olive oil, add onions and garlic and fry until onions are translucid. Add tomato extract. Fry rice in this mixture. Add seafood and shrimps with the marinade. Add Fish sauce. Cook rice until ready. Add chive and do not overcook. Proove seasoning. Garnish with fresh coriander and serve immediately. Makes 4 servings.

Broccoli-Green Beans with Ginger Green Sauce
Submitted by: Barbiel
2 cups green beans, sliced into bite-sized pieces
(use fresh or frozen)
2 cups broccoli florets, cut into bite-sized pieces
(use fresh or frozen)
Green Sauce:
2 cups tightly packed, fresh spinach leaves
1/2 cup low-sodium vegetable broth
1/4 teaspoon low-sodium soy sauce
1/2 teaspoon sesame oil
2 teaspoons rice wine vinegar or white vinegar
1/2 teaspoon grated fresh ginger (optional)
Puree green sauce ingredients in the blender until the sauce is bright and very smooth. Meanwhile, use the stove or microwave to steam green beans and broccoli just until each is bright green and tender-crisp. To serve, drizzle some green sauce on each plate, and top with a 1/4 cup pile of hot green beans and a 1/4 cup pile of hot broccoli. Serves 4.

Harvest Succotash
Submitted by: Barbiel
2 teaspoons mild Olive oil
1 medium onion, chopped (1 1/2 cups)
3 cloves garlic, crushed
1 Jalapeño pepper, finely chopped with seeds
(if you like it hot) or seeds removed
1 tablespoon mild chili powder
1/4 teaspoon salt
2 cups frozen corn kernels
2 cups frozen baby lima beans or green beans
1 cup low-sodium chicken or vegetable broth
2 tablespoons chopped cilantro (optional)
2 tablespoons toasted sunflower seeds
Heat the oil in a high-sided skillet on medium high. Sauté the onion 3 minutes then add the garlic and jalapeño and cook 1 minute more or until the onions are soft but not browned. Season with the chili powder and salt. Add the corn, lima beans and stock. Bring to a boil. Reduce the heat and simmer 10 minutes. Serve topped with the cilantro and sunflower seeds. Makes 4 servings.
Note: This dish was created by the indigenous American people.

To submit your favorite recipes to be included in the Garden of Friendship Recipe Book, please email them to Barbiel
Background graphics made especially for the Recipes Committee of the Garden of Friendship by Valatine