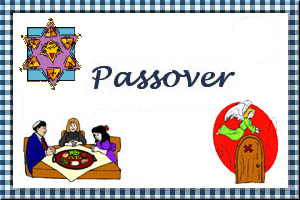 Cottage Cheese Loaf
Submitted by: Barbiel
1 quart cottage cheese
1 cup chopped nuts (or 1 1/4 cup of chopped almonds)
5 eggs beaten
1/4 cup melted butter
1 package onion soup mix
1 cup water
Combine all ingredients together and bake in a greased casserole dish for 1 hour at 350°F. Makes one loaf.

Passover Mandelbrot
Submitted by: SueW

3 eggs
3/4 cup oil
1 teaspoon salt
3/4 cup cake meal
3/4 cup pecans, chopped
3/4 cup sugar
2 tablespoons potato starch
1/4 cup Matzah meal
1 teaspoon vanilla
1/2 teaspoon almond extract
Beat eggs and sugar together thoroughly. Beat in oil. Sift together cake meal, starch and salt. Add matzah meal. Mix all dry ingredients and nuts into batter. Refrigerate for 1 to 24 hours. Lightly grease cookie sheet. Shape dough on the sheet into a 3 x 1 inch high roll. Bake at 350°F for 30 minutes or until lightly browned. Cool slightly. Slice rolls, sprinkle cut sides with cinnamon and sugar. Place cut side up on cookie sheet. Return to oven at 350°F for about 10 minutes. Makes 1 bread.

Passover Rolls
Submitted by: SueW
2 cups matzo meal
1/2 cup peanut oil
1 cup water
1 teaspoon salt
1 tablespoon sugar
4 eggs
Boil oil and water. Remove from heat. Mix salt, sugar and meal together. Pour into oil and water; mix well. Add 1 egg at a time, mixing well. Let stand for 15 minutes. Heat oven to 375°F. Grease cookie sheet well. Pour oil into saucer. Grease hands with oil. Roll dough into balls. Indent rolls with finger. Bake for about 50 minutes. Makes 12 rolls.

To submit your favorite recipes to be included in the Garden of Friendship Recipe Book, please email them to Barbiel
Background graphics made especially for the Recipes Committee of the Garden of Friendship by Valatine