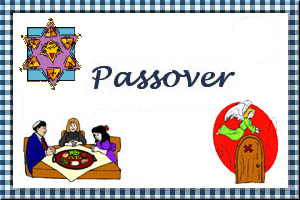 Passover Rout Cakes
Submitted by: Praying Bear
1/2 lb. ground almonds
1/2 lb. caster sugar
yolks of 3 eggs
Royal Icing (recipe below)
Measurements are given in ounces. For volume, 1 oz. = 1 Tablespoon.
Mix sugar and almonds together, then add the egg yolks, using just sufficient to form a pliable mixture. Dredge a pastry board with icing sugar, roll out the paste 1/3 inch thick and leave in a cool place for 1 hour. Then form into any shapes preferred. It can be rolled out thinly and cut into diamonds or fingers; or rolled into pencil-shaped pieces and formed into rings, scrolls or twirls. Place on a well-greased tin and bake in a cool oven (325 F, Regulo No. 2) till firm. Decorate to taste with Royal Icing.
Royal Icing:
1 lb. icing sugar
2 egg whites
2 teaspoons lemon juice
Sieve the sugar twice through a very fine sieve. Make a well in the centre and add slightly beaten egg whites and lemon juice. Beat vigorously with a wooden spoon till the icing is very smooth.

Passover Chocolate, Orange and Honey Cake
Submitted by: Praying Bear
7 large eggs, separated
1/2 teaspoon coarse kosher salt
1 cup sugar
1/3 cup vegetable oil
1/4 cup frozen orange juice concentrate, thawed
3 tablespoons grated orange peel
1/4 teaspoon fresh lemon juice
3/4 cup matzo cake meal
5 tablespoons potato starch
nonpoisonous flowers (optional)
orange peel strips (optional)
Chocolate Glaze (recipe below)
Position rack in center of oven and preheat to 350°F. Line bottom of 10-inch diameter spring form pan with foil; brush foil with oil. Cut cardboard into 9-inch round. Wrap with foil. Using electric mixer, beat egg whites and salt in large bowl until peaks form. Gradually add 1/2 cup sugar and beat until stiff glossy peaks form. In another large bowl, beat egg yolks, remaining 1/2 cup sugar, vegetable oil, orange juice concentrate, orange peel and lemon juice until blended. Sift cake meal and potato starch over yolk mixture and beat at low speed just until blended. Gently fold whites into yolk mixture in 2 additions. Transfer batter to prepared pan. Bake cake until tester inserted into center comes out clean, about 45 minutes. Cool cake in pan on rack. (Can be prepared 1 day ahead. Cover and let stand at room temperature).
Chocolate Glaze
3/4 cup (1 1/2 sticks) unsalted pareve margarine
1 1/2 pounds bittersweet (not unsweetened) or semisweet chocolate, chopped
1 cup plus 2 tablespoons frozen orange juice concentrate, thawed
3 tablespoons honey
Melt margarine in heavy large saucepan over low heat. Add chocolate and stir until melted and smooth. Mix in orange juice concentrate and honey. Let cool until thickened but still spreadable, about 2 hours. Assemble Cake. Cut around pan sides to loosen cake. Release sides. Cut cake in half horizontally, leaving cake bottom on pan bottom. Place top half of cake, top side down, on foil-wrapped cardboard round. Spread 1 1/3 cups Chocolate Glaze over. Place bottom half of cake, pan side up, onto glaze. Remove pan bottom; peel off foil. Spread 1 cup chocolate glaze in thin layer over entire cake, anchoring crumbs. Refrigerate cake 30 minutes. Rewarm remaining Chocolate Glaze over very low heat until just pourable. Place rack on baking sheet; place cake on rack. Pour glaze over cake, coating entirely and smoothing sides with metal spatula. Chill cake on rack until glaze is firm. Transfer to platter. (Reserve glaze on sheet for another use. Can be made 3 days ahead). Cover and chill. Let stand at room temperature 1 hour before serving. Garnish cake with flowers and orange peel strips if desired.
Note: Two layers of tender orange sponge cake are embellished with a rich orange and honey chocolate glaze. Any leftover chocolate glaze can be chilled, rolled into small rounds and kept refrigerated to serve as truffles with coffee or tea.

Passover Fruit Casserole
Submitted by: Praying Bear
1/2 cup dried apricots
1/2 cup prunes
1/2 cup dried pineapple
1/2 cup raisins
3 apples, pared and sliced
9 egg whites
1 cup oil
1 cup sugar
1 cup fine matza meal
cinnamon
Put the apricots, prunes and pineapple in a bowl. Pour boiling water over them to cover and let stand for at least one hour. Drain. Add the raisins and sliced apples. Beat the egg whites, adding sugar gradually, to a stiff meringue. Add the oil and matza meal. Mix gently but thoroughly. Fold the batter into the fruit. Transfer to an oiled, glass baking dish (about 12" x 15"). Sprinkle with cinnamon. Bake for 45 minutes at 350°F (160°C).
Note: Because the fruits are so sweet themselves, the sugar in this recipe could be cut to 3/4, or even to 1/2 cup. Fruits may aslo be substituted. For example, if the pineapple cannot be found, pears may be substituted. The oil in this recipe could also be cut to 2/3 cup or even 1/2 cup.

To submit your favorite recipes to be included in the Garden of Friendship Recipe Book, please email them to Barbiel
Background graphics made especially for the Recipes Committee of the Garden of Friendship by Valatine