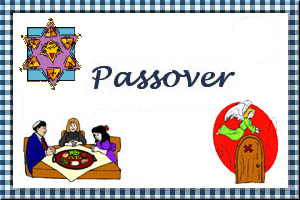 Tu Beshvat Date-Nut Squares
Submitted by: Barbiel
1 1/2 cups chopped pitted dates
3/4 boiling water
1/2 cup shortening or oil
2 eggs
1 teaspoon vanilla
1 1/3 cups sugar
1 1/3 cups flour
1 teaspoon cocoa powder
1 teaspoon baking soda
1/4 teaspoon salt
3/4 cups chopped nuts
1/2 cup confectioners sugar
Mix dates and boiling water in a small bowl. Let it cool. Mix shortening, eggs and vanilla until light fluffy looking. Mix sugar, flour, cocoa, baking soda and salt together. Add to batter alternately with date mush. Spoon into a greased 9 x 13 baking pan. Sprinkle top with chopped nuts. Bake at 350°F for 40-45 minutes. Let cool, remove from pan. Put confectioners sugar into a wire colander and sift over the cake. Cut into squares.

Chocolate Chips Cookies
Submitted by: Barbiel
2 cups sugar
2 eggs
2 sticks margarine
3 tablespoons vanilla sugar
1 package. ground walnuts
1 packages ground filberts
2 cups potato starch
Mix margarine and sugar until creamy. Add eggs and vanilla, beat until fluffy. Add walnuts, filberts and potato starch. Mix well, then slowly add the chocolate chips. Put the mixture in the fridge for 2-3 hours. Remove batter from fridge. Drop by teaspoonful onto cookie sheet. Freeze for 10 minutes. Bake 350°F 12-15 minutes.

Hamantaschen
Submitted by: Barbiel
1 cup margarine, room temperature
1 cup sugar
2 eggs, beaten
1/4 cup orange juice
3 1/2 cups flour, sifted
1/2 teaspoon baking powder
1/2 teaspoon baking soda
1 teaspoon vanilla extract
grated rind of 1 lemon

Cream together margarine and sugar until flufffy. Stir in remaining floured surface, roll out each part 1/8 inch thick. Cut into 2-inch rounds. Put a heaped teasponful of filling in center of each round. Fold 3 sides over, pinching edges together to form a triangle. Place on a greased cookie sheet and bake at 350°F in a preheated oven for 25 minutes or until golden. Makes 36 hamantaschen.

To submit your favorite recipes to be included in the Garden of Friendship Recipe Book, please email them to Barbiel
Background graphics made especially for the Recipes Committee of the Garden of Friendship by Valatine