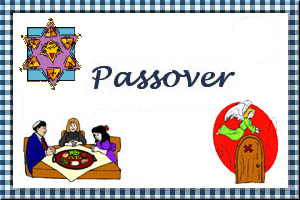 Passover Jam Buttons
Submitted by: KatS
1/2 cup butter
3/4 cup sugar
1 teaspoon Vanilla extract
1/2 teaspoon salt
2 egg yolks
1 cup matzo cake meal
1 1/2 cup finely chopped walnuts
strawberry jam (or your choice)
Cream butter, sugar, vanilla and salt until light and fluffy. Add egg yolks and beat thoroughly. Blend in cake meal. Form dough into 3/4" balls. and roll in nuts. Place on lightly greased cookie sheets about 1" apart. Press down in center. Bake at 350°F for 15 min., or until lightly browned. Remove from oven and press down centers. Cool slightly before removing from pan. Spoon jam into center of each cookie.

Passover Very Fudgy Brownies
Submitted by: Vadi
Preheat oven to 325°F. Lightly grease an 8" x 8" glass pan. Mix together in mixing bowl:
2 tablespoons potato starch beaten with 3 tablespoons water
1 cup sugar
1/4 cup unsweetened cocoa powder
dash of salt
Add:
1 mashed ripe banana
1/4 cup unsweetened applesauce
1/2 cup matzo cake meal*
1/4 cup raisins
Bake 25-30 minutes. Cut when cool.
*If you don't have matzo cake meal, just put some matzo meal in a blender to make it a bit more fine than matzo meal.
Note: The water and potato starch mixture is a replacement for Ener-G egg replacer, which is not pesach, as it contains tapioca flour and baking powder. Its main ingredient is potato starch.

Coffee Meringue Cookies
Submitted by: Teresa
4 large egg whites,
1/4 teaspoon salt
1 cup sugar
3 tablespoons instant regular or without cofein coffee (granules)
1 teaspoon Vanilla extract
36 whole coffee beans (optional)
1 tablespoon unsweetened cocoa (optional)
chocolate chips for topping (optional)
Place oven racks into thirds. Preheat oven to 250°F. Using mixer on high, beat egg whites and salt until foamy. Add sugar one tablespoon at a time beating until stiff peaks form. Stir in rest of sugar, coffee and Vanilla. Cover 2 baking sheets with parchment paper or waxed paper. (using masking tape to attach to baking sheet). Drop tablespoons of batter onto baking sheets. Top with coffee bean or chocolate chip. Sprinkle with cocoa (optional). Bake at 250°F for 2 hours or until dry. Turn oven off and partially leave oven door open. Leave meringues in oven for another hour. Remove from oven and carefully remove from paper. Cool completely on oven racks.

To submit your favorite recipes to be included in the Garden of Friendship Recipe Book, please email them to Barbiel
Background graphics made especially for the Recipes Committee of the Garden of Friendship by Valatine