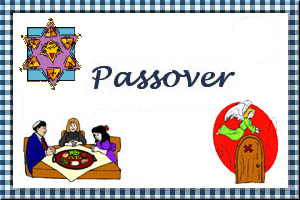 Passover Palestine Cookies
Submitted by: Clyde
2 cups matzo meal
1 teaspoon cinnamin
2 cups matzo farfel
1/2 teaspoon salt
1.5 cups sugar
2/3 cup vegetable oil
1 cup raisins
4 eggs
1 cup chopped nuts
2 tablespoons Passover wine
1 teaspoon lemon juice
1/4 cup orange juice
Combine dry ingredients. Beat in eggs and oil. Add wine and juices. Drop by the teaspoonful onto a greased cookie sheet. Bake at 350°F for 20-25 minutes. Yields around 70 cookies.

Passover Walnut Cookies
Submitted by: Clyde
1 egg
3 ounces walnut meats, ground
4 ounces walnut meats, coarsely chopped
6 packages Sunette artificial sweetener
1 tablespoon walnut oil
3 tablespoons canola oil
1 teaspoon Vanilla
1/2 teaspoon maple flavor
pinch salt
Preheat oven to 375°F. Combine egg, sweetener, oils and flavorings. Gently fold in ground nuts and then pieces. Drop by teaspoons onto foil covered cookie sheet. Place in preheated oven. Close door and turn off heat. Let sit until completely cool--several hours or overnight. Serving size: 30
Note: This recipe began its life as a macaroon--the source of the baking method. I still find it the easiest way. However, it can be baked the regular way--but be careful not to overbrown--the cookies are still edible but not as nice.

Meringue Drops
Submitted by: Clyde
3 egg whites
1/3 cup sugar
1 teaspoon Vanilla
1 package (6 oz) chocolate chips
chopped nuts (optional)
Beat egg whites until almost stiff. Add sugar and Vanilla. Beat until stiff. Gently fold in chips. Drop by teaspoons on greased cookie sheets Bake at 350°F for 15 to 20 minutes. Watch carefully!

To submit your favorite recipes to be included in the Garden of Friendship Recipe Book, please email them to Barbiel
Background graphics made especially for the Recipes Committee of the Garden of Friendship by Valatine