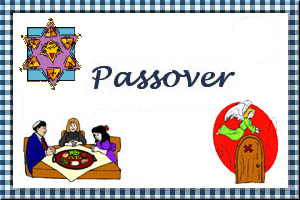 Matzoh Sttufing
Submitted by: SueW
1 box matzoh
1 onion, diced
10 medium mushrooms, chopped
1 medium green pepper, chopped
1 1/2 cups chicken stock
2 tablespoons poultry seasoning
2 tablespoons garlic powder
2 tablespoons onion powder
1 tablespoon paprika
giblets, diced
1 stick margarine, melted
3 eggs, slightly beaten
Combine all together. Stuff poultry or bake in greased casserole dish in oven, at 400°F for 40 minutes.

Passover Noodles
Submitted by: JoyC
3 eggs
1/4 cup water
pinch of coarse salt
2 tablespoons chicken fat, for frying
Beat eggs with egg beater or wire whisk until fluffy. Add water and salt. Beat for 1?2 minutes. Heat 2 tablespoons fat in 10-inch skillet over medium high flame. Pour entire mixture into pan. Fry as you would a pancake to golden brown on each side. Flip out onto a large platter and cut into strips. Add to hot soup. Makes 6 servings.

Brisket in Marinade
Submitted by: CajunSue
1/2 cup (125 ml) lemon juice
1/2 teaspoon black pepper
1 teaspoon finely chopped fresh parsley
1/2 teaspoon finely chopped fresh marjoram
4 lbs (2 kilos) brisket
2 cups (500 ml) finely diced onion
2 cups (500 ml) red wine

Mix the lemon juice, pepper, parsley and marjoram together. Coat the brisket with the mixture and let marinate overnight in the refrigerator. Next day brown the meat on all sides and return to the marinade. Add the onion and red wine over the top of the brisket and cover with foil. Roast in oven at 325°F (160°C) for 2 and 1/2 to 3 hours. Serves 4.

To submit your favorite recipes to be included in the Garden of Friendship Recipe Book, please email them to Barbiel
Background graphics made especially for the Recipes Committee of the Garden of Friendship by Valatine