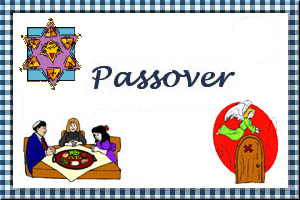 Matzo Brie
Submitted by: CajunSue
1 sheet of Matza
1 egg, scrambled
warm running water
sugar or jelly
Break the Matza into 3 equal pieces. "Sandwich" them together, run them under the running water. Dip the wet sandwich into the egg. Then fry the sandwich as you would for french toast. Put sugar or jelly on it and it will be gone almost before the plate hits the table.

Brine for Corning Beef
Submitted by: Merribuck
(Recipe adapted from Time Life Books)
4 quarts water
1 1/2 pounds kosher salt
1 pound dark brown sugar
2 bay leaves
1 teaspoon mustard seeds
1 sprig thyme
10 juniper berries
10 crushed peppercorns
1 tablespoon baking soda
4 gallons boiling water
1 egg, in shell
salt, if needed
cold water to cover meat
1 (5 pound) beef brisket
5 cloves garlic
Bring first 9 ingredients up to the peppercorns to a boil and boil hard for 5 minutes. Leave the brine to cool. Clean a stoneware crock or plastic bucket and its lid with a solution of 1 tablespoon baking soda to 1 gallon boiling water. Rinse well and leave to drain dry. To test the saltiness of the brine put egg, in shell in the cooled brine. If it doesn't float, add enough salt until it does. To draw off any excess blood and to help the brine penetrate, pierce the beef all over with a trussing needle or skewer and place meat in cold water for about 45 minutes. Remove the meat from water and place in crock or bucket. Pour the cooled brine over the brisket. Add garlic to the brine. Place a plate on top of the brisket to submerge. Place a lid or plastic wrap over container. Store in a refrigerator or dry place, at a temperature below 60°F. Salting time depends on the thickness of the meat. Allow 3 to 10 days for salting time for brisket. When removing meat from brine, always use clean tongs: this way the brine will stay good longer and be reused with the same kind of meat. It is possible to strain off the brine and reboil it, adding a refresher of about half the above quantities. Naturally the crock or bucket will need a complete cleaning. This should be done before mold appears. Makes 4-6 servings.

10 Minute Apple Sauce
Submitted by: Merribuck
Recipe courtesy Alton Brown
3 Golden Delicious apples, peeled, cored and quartered
3 Fuji apples, peeled, cored, and quartered
1 cup unfiltered apple juice
2 tablespoons cognac or brandy
2 tablespoons butter
3 tablespoons honey
1/2 teaspoon ground cinnamon
In a sealable microwave-safe container, combine apples with all other ingredients. Close lid, leaving one corner of lid open to allow steam to escape. Microwave on high for 10 minutes. Using a hand blender or potato masher, blend to desired consistency. Serve hot immediately or chill for later use. Yield: 1 quart sauce.

To submit your favorite recipes to be included in the Garden of Friendship Recipe Book, please email them to Barbiel
Background graphics made especially for the Recipes Committee of the Garden of Friendship by Valatine