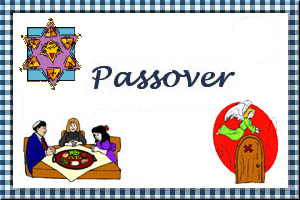 Haroset
Submitted by: Lady Seanna
2 large apples, peeled, cored and finely chopped
1 cup finely chopped walnuts
1 teaspoon white sugar
1 teaspoon ground cinnamon
2 tablespoons kosher Red wine
Mix apples, nuts, sugar and cinnamon together in a bowl. Add wine and mix in to thoroughly blend. Keep in refrigerator until ready to put out on the table for Passover Seder. Serves 4.

Chopped "Liver" Spread
Submitted by: AngelBreath
3 tablespoons oil
1/2 lb mushrooms, chopped
1 small onion, chopped
1 cup chopped walnuts
pepper and salt to taste
1 tablespoon water
Saute mushrooms and onion for 8 minutes. Pour into blender or food processor, adding walnuts, seasonings and water. Blend until smooth. Serve on matzo as a spread. Makes 1 cup.

Falafel
Submitted by: Merribuck
2 cups dried chickpeas (soaked in water and covered over night)
1/2 cup finely chopped yellow onion
3 cloves peeled and crushed garlic
1/2 cup sesame seeds
1/4 cup finely chopped parsley
1/4 tablespoon kosher salt
2 teaspoons ground cumin
2 teaspoons baking powder
2 teaspoons ground coriander
1/4 teaspoon ground black pepper
1/2 teaspoon cayenne pepper
Oil, for deep-frying
Pita bread
Toppings: lettuce, cucumbers, tomatoes and onions
Soak chickpeas in water overnight. Run chickpeas through food processor. Blend in yellow onion, garlic, sesame seeds parsley, salt, cumin baking powder, coriander, black pepper, and cayenne pepper, and let stand for 1 hour. Form into balls about 1-inch in diameter. Deep fry in oil until golden brown. This takes approximately 4 to 5 minutes. Serve in a pita bread and fill with lettuce, cucumber, tomatoes and onions.

To submit your favorite recipes to be included in the Garden of Friendship Recipe Book, please email them to Barbiel
Background graphics made especially for the Recipes Committee of the Garden of Friendship by Valatine