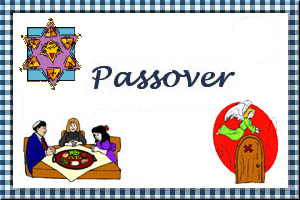 Broccoli Knishes
Submitted by: Praying Bear
1 cup mashed potatoes
1/3 cup matzah meal
2 tablespoons potato starch
1/2 small onion, finely chopped
2 egg whites or 1/4 cup Passover egg substitute
1/2 teaspoon black pepper
1/4 teaspoon salt
1 cup fresh or frozen broccoli, steamed and finely chopped
cooking spray
Knishes (recipe below)
Preheat the oven to 375°F. In a bowl combine the potatoes, matzah meal, potato starch, onion, egg whites, pepper and salt and knead together. Divide the dough into 6 balls and flatten each. Divide the broccoli evenly onto each circle, fold over, and press edges to seal. Generously coat a baking sheet with the cooking spray. Arrange the knishes in a single layer and place the baking sheet on the bottom rack of the oven. Bake for 15 minutes on each side. Serve hot. Serves 6.
Knishes:
1/3 cup egg whites (about 2)
2 tablespoons oil
1/4 teaspoon salt
3/4 cup water
3 cups flour
Vegetable Filling and/or Potato Filling:
1 egg, beaten (for wash) Combine egg whites, oil, salt, water, and flour and beat with an electric mixer until smooth. Pour a thin layer of oil over dough. Let stand at room temperature for 1 hour. Prepare filling as directed. Preheat oven to 350°F. On a heavily floured board, kneed dough until smooth and elastic. Roll out to a 1/8 inch thickness, shaping into a 14 X 24 inch oblong. Brush dough with oil. Spoon potato filling along one 24" edge of the dough. Spoon vegetable filling along the other 24" edge. Roll the dough over the filling and continue rolling toward the center. Then roll the other side towards the center. Cut each long roll into 2 pieces. Place all 4 pieces on a heavily greased cookie sheet. Brush with oil and bake for 35-40 minutes, or until golden brown. Remove from oven and brush with egg wash. Return to oven and bake 10 minutes longer. Cut into 1 1/2" inch pieces and serve warm.
Note: After cooling, knishes may be sliced an wrapped and frozen (up to one year) and used when desired.
Potato Filling:
1/4 cup butter
3 cups chopped onion
4 cups cooked mashed Idaho potatoes
salt and freshly groung pepper
In a skillet, heat butter and saute onion until golden brown. Stir in mashed potatoes, salt and pepper to taste. Cool. Also makes good filling for Pirogen. This is enough for 2 twelve inch knishes, so double it for the above recipe for knishes as that recipe makes 4 12" knishes.
Vegetable Filling:
1/4 cup oil
1 1/2 cups chopped onion
1 clove garlic
1 carrot, diced
1 cup chopped celery
2 cups chopped mushrooms
1/2 cup chopped green pepper
1 cup cooked rice
1 cup cooked Kashe
1 egg
salt and freshly ground pepper.
In a 10 inch skillet, heat the oil. Add onion, garlic, carrot, celery, mushrooms and green pepper and saute for 10 minutes, or until veggies are tender. Stir inrice, kashe and egg. Season to taste with salt and pepper. Makes 3 1/2 cups filling for 2 12" inch knishes so double for knish recipe above.

Passover Pancakes
Submitted by: Lady Seanna
2 eggs separated
3 tablespoons oil
113 ml buttermilk
57 g (2oz) sugar
40 g (1 1/2 oz) matzah meal
15 g (1/2 oz) potato starch
Beat egg whites until soft peaks form. Gradually add sugar and continue beating until stiff, but not dry peaks form. Using same beaters, beat 1/3 of the egg whites with oil until light, about 5 minutes. Add milk, continue beating. Gradually add dry ingredients. Batter will be thick. Fold in remaining egg whites in two batches. Pour in about 1 tablespoon of the batter and swirl around the base of the pan. Cook until golden and the surface bubbles, then flip over and cook the other side until golden. If the first pancake is too thick, add a little milk to the batter to thin it. Make more pancakes from the remaining batter.

Title
Submitted by:
Ingredients
Ingredients
Instructions

To submit your favorite recipes to be included in the Garden of Friendship Recipe Book, please email them to Barbiel
Background graphics made especially for the Recipes Committee of the Garden of Friendship by Valatine