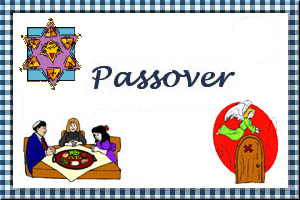 Apple Cake
Submitted by: Sandi
Cake::
3 eggs
3/4 cup sugar
1/3 cup oil
3/4 cup cake meal
5 apples, peeled & sliced (Granny Smiths are best)
Topping:
1/3 cup chopped walnuts
1/2 cup sugar
2 teaspoons cinnamon

In a medium sized mixing bowl, beat the eggs with the sugar and oil until the mixture is light. Add the cake meal and mix well. Pour half of the mixture into a lightly greased 8 or 9 inch square baking pan. Distribute half the apples over the batter. Pour the remaining batter over the apples and cover with the remaining apples. Combine topping ingredients in a small bowl; sprinkle over the apples. Bake in a preheated 350 degree oven for approximately 1 1/2 hours. Serves 8-9. You can double the recipe and bake in a 9x13 pan.

Festive Peach Passover Cake
Submitted by: SueW
1 1 pound 13 ounces can cling peach slices
3/4 cup butter
1 cup matzoh meal
2 tablespoons granulated sugar
3 cups powdered sugar
1/2 cup egg yolks
2 teaspoons lemon juice
1 1/2 cups sour cream
2 teaspoons lemon rind

Drain peaches well. Reserve a few slices and dice remainder. Melt 1/4 cup butter; mix with matzoh meal and sugar. Press remainder on the bottom of a 8 x 1 1/2 inch layer pan with removable bottom or 8 inch springform pan. Bake at 350°F for 15 minutes or until lightly brown, cool. Cream remaining butter, add powdered sugar, beating until smooth and fluffy. Gradually beat in egg yolks, 1 1/2 teaspoons lemon rind and lemon juice. Turn into pan crust. Top with diced peaches. Lightly blend remaining lemon and rind with sour cream and spread over peaches. Sprinkle with reserved matzoh meal mixture, garnish with reserved peaches.

Passover Oatmeal Cake
Submitted by: SueW
1 1/3 cup flour (not self-rising)
2 teaspoons sugar
1/2 cup butter
2 cups rolled oats
1 teaspoon salt
1/2 cup boiling water
Combine dry ingredients. In a separate bowl, cover butter with boiling water. Stir liquids into dry mixture and mix. Roll out very thin, cut like crackers. Bake 5 to 10 minutes at 350°F. Makes 1 cake.

To submit your favorite recipes to be included in the Garden of Friendship Recipe Book, please email them to Barbiel
Background graphics made especially for the Recipes Committee of the Garden of Friendship by Valatine