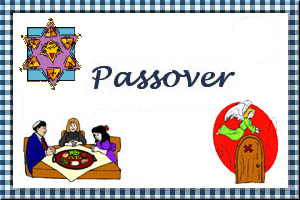 Gefilte Fish Loaf Recipes
Submitted by: Teresa
Sweet Gefilte Fish:
Place gefilte fish roll (wrapped) in about one and one half inches of boiling water (aprox. 4 cm). Add 2 tablespoons sugar. Add small onion, sliced. One cut carrot. Simmer covered for one and one half hours.
Fish Balls:
Defrost the Gefilte fish roll and shape your own fishballs the follow cooking directions
Fried Gefilte Fish:
Partially defrost Gefilte fish roll, slice roll into matzo meal and fry until golden brown
Tomato Gefilte Fish:
Sauté onions, place over Gefilte fish roll, add 2 tbsp. ketchup, 1 can tomato sauce, cook or bake at 350°F (160°C) for a minimum of one and 1/2 hours.
Cocktail Gefilte Fish:
Slather gefilte fish roll with Cocktail Sauce: Bake at 350°F (160°C) for a minimum of one and 1/2 hours.

Passover Zucchini Stuffed Chicken
Submitted by: Lady Seanna
8 bone-in chicken breast halves, with skin
2 zucchinis, shredded
3 cups matzo farfel
2 eggs, beaten
2 tablespoons chicken bouillon powder
1 onion, chopped
salt to taste
pepper to taste
1 dash garlic powder
1 dash onion powder
Preheat oven to 375°F (190°C). Grease a cookie sheet or 9x13 inch baking dish. Wash and clean the chicken breasts. Place farfel in a bowl and cover with hot water for 3 or 4 minutes, until soft. Drain and squeeze out water. In a medium-size mixing bowl, combine zucchini, farfel, eggs, chicken soup powder, onion, salt, pepper, garlic powder, and onion powder. Place 2 to 3 tablespoons of the stuffing under the skin of each chicken piece and arrange them on cookie sheet. Bake at 375°F (190°C) for 40 to 50 minutes. Drain off fat and serve.

Salmon Croquettes
Submitted by: Shannon
1 can 14.75 pink salmon
2 eggs
1 small onion chopped fine
4 tablespoons matzah meal
salt to taste
pepper to taste
Separate salmon saving juice ,separate the bones and skin. then shred salmon into fine pieces,put into a mixing bowl adding the juice from the salmon,adding,beaten eggs,onions, salt,pepper,and then matzah meal.mix all ingredients well. Heat frying pan on medium heat. Form mixture into patties and fry on both sides until well browned. Makes approximately 14 patties. Serve hot or even cooled .

To submit your favorite recipes to be included in the Garden of Friendship Recipe Book, please email them to Barbiel
Background graphics made especially for the Recipes Committee of the Garden of Friendship by Valatine