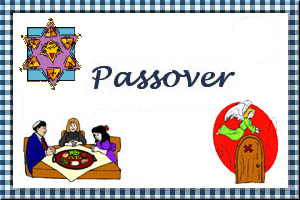 Broccoli Knishes
Submitted by: Sandi
1 cup mashed potatoes
1/3 cup matzah meal
2 tablespoons potato starch
1/2 small onion, finely chopped
2 egg whites or 1/4 cup Passover egg substitute
1/2 teaspoon black pepper
1/4 teaspoon salt
1 cup fresh or frozen broccoli, steamed and finely chopped
Cooking spray
Preheat the oven to 375°F. In a bowl combine the potatoes, matzah meal, potato starch, onion, egg whites, pepper and salt and knead together. Divide the dough into 6 balls and flatten each. Divide the broccoli evenly onto each circle, fold over, and press edges to seal. Generously coat a baking sheet with the cooking spray. Arrange the knishes in a single layer and place the baking sheet on the bottom rack of the oven. Bake for 15 minutes on each side. Serve hot. Serves 6.

Vegetable Kugel
Submitted by: Sandi
6 zuccini
2 carrots
1/2 cup chopped onions
1/2 matzo meal
1/2 margarine (melted)
2 eggs
1 tablespoon sugar
1 teaspoon salt
1/2 teaspoon pepper

Cook zuccini and carrots till soft. Drain and mash. Combine with half melted margarine and all other ingredients. Pour into 9" greased pan. Drizzle remaining margarine over the top and sprinkle with matzo meal. Bake at 375°F for 1 hour.

Passover Soup with Chicken Dumplings
Submitted by: JoyC
8 eggs
2/3 pound ground chicken
1 egg, lightly beaten
1/3 cup matzo meal
salt and pepper to taste
1 pinch ground cinnamon
10 cups chicken broth
1 cup uncooked rice
Bring a large pot of salted water to a rolling boil. Place 8 eggs in the boiling water; let the eggs boil for one minute, then remove the pan from the heat. Let the eggs sit for 15 minutes before removing them from the pot. Let them cool, remove the shells, the white portion of the eggs (save or discard the white), and chop the yolks. In a medium bowl, mix ground chicken, beaten egg, matzo meal, salt and pepper to taste and cinnamon. Form mixture into walnut-sized balls and refrigerate until ready to cook. In a large saucepan over high heat, bring chicken broth to a boil. Add rice and chicken balls, cover and lower heat to medium low; simmer for 20 minutes or until the rice and chicken are cooked. Ladle into soup bowls and garnish with hard-boiled egg. Serve.

To submit your favorite recipes to be included in the Garden of Friendship Recipe Book, please email them to Barbiel
Background graphics made especially for the Recipes Committee of the Garden of Friendship by Valatine