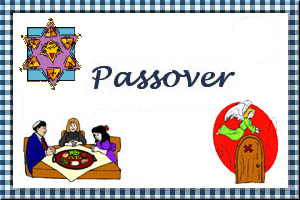 Stewed Zucchini
Submitted by: JoyC
1 onion
juice of 1/2 - 1 lemon (2 tablespoons)
2-3 medium zucchini, peeled
1/2 teaspoon salt
4-5 tomatoes, peeled
olive oil for frying
Peel and slice all vegetables. Saute onion in olive oil until translucent. Add rest of vegetables and seasoning. Cook over low flame, 10 - 15 minutes. Makes 3 - 4 servings.
Variation: After cooking 15 minutes, add 4 beaten eggs and cook for an additional few minutes until done.

Passover Zucchini-Stuffed Chicken
Submitted by: JoyC
8 skinless, boneless chicken breast halves
2 zucchinis, shredded
3 cups matzo farfel
2 eggs, beaten
2 tablespoons chicken bouillon powder
1 onion, chopped
salt and pepper to taste
1 dash garlic powder
1 dash onion powder
Preheat oven to 375°F (190°C). Grease a cookie sheet or 9x13 inch baking dish. Wash and clean the chicken breasts. Place farfel in a bowl and cover with hot water for 3 or 4 minutes, until soft. Drain and squeeze out water. In a medium-size mixing bowl, combine zucchini, farfel, eggs, chicken soup powder, onion, salt, pepper, garlic powder, and onion powder. Place 2 to 3 tablespoons of the stuffing under the skin of each chicken piece and arrange them on cookie sheet. Bake at 375°F (190°C) for 40 to 50 minutes. Drain off fat and serve. Makes 4 servings.

Chicken Soup
Submitted by: CajunSue
4 to 5 pound chicken
3 quarts cold water
1 cup carrots, cut into chunks
4 celery ribs
1 onion, quartered
2 cloves, whole
2 peppercorns
1 bay leaf
salt to taste
few springs fresh dill
Wipe or rinse chicken. Cut the chicken into two or four pieces depending on the size of the pot. Cover with water and bring to a boil. Add carrots, celery, onion, cloves, pepper corns, bay leaf, and salt. Simmer for 2 hours, skimming occasionally. Strain the soup and cool. Refrigerate until yhe fat rises to teh top and can be seperated from the stock. Bring the stock to a simmer again (add knaidlech/matzoh balls if desired) and heat for 15 or 20 minutes. Season to taste. To serve, pour soup into individual bowls, garnish with snipped dill.

To submit your favorite recipes to be included in the Garden of Friendship Recipe Book, please email them to Barbiel
Background graphics made especially for the Recipes Committee of the Garden of Friendship by Valatine