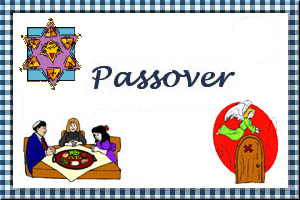 Vegetable Kugel I
Submitted by: Teresa
3 stalks celery, sliced
4 carrots, sliced
3 medium potatoes, sliced
2 onions, sliced
2 red peppers, sliced in 1" pieces for sautee version; whole for roasted version
8 oz. mushrooms, sliced
3 tablespoons matza meal
4 eggs
1 teaspoon salt
1/4 teaspoon pepper
1 tablespoon Olive oil: for sauteed version
Sauteed version:
Sauté onion in Olive oil, saute rest of vegetables.
Roasted version:
Place vegatables on cookie sheet, spray with olive oil spray or non-stick spray. Set oven to broil, put oven rack to highest setting. Broil 7 minutes a side, turn until brown and soft. Add eggs, matza meal, salt and pepper. Mix. Bake in sprayed pan for 1 hour at 350°F.

Matza Cheese Kugel
Submitted by: Teresa
5 eggs
1 cup milk
1 lb Cottage cheese
1 teaspoon salt
1/4 cup honey or sugar
1/2 teaspoon cinnamon
4 matzas, crumbled
1/2 cup toasted slivered almonds (optional)
Preheat oven to 350°F. Grease shallow 2 qt. baking dish or large pie pan. Beat eggs and milk together. Add the rest of the ingredients, except matza. Put half of the matzas in the dish. Pour 1/2 of the cheese-egg mixture on top of the matza. Place the rest of the matza on top of the egg-cheese-mixture. Pour the rest of the egg-cheese mixture over the matza. Bake at 350°F for 40 minutes or until the top is brown and slightly crunchy .

Cucumber Salad
Submitted by: Teresa
3 to 4 cucumbers
1 tablespoon salt
1 onion, sliced
1/2 cup vinegar
1/2 cup water
1/2 tablespoon sugar
1/4 teaspoon pepper
Peel and slice cucumbers. Place cucumbers in salt and let stand for at least 1/2 an hour. Drain extra fluid from cucumbers. Add sliced onion. Mix remaining ingredients in another dish. Pour over the cucumbers. Serve.

To submit your favorite recipes to be included in the Garden of Friendship Recipe Book, please email them to Barbiel
Background graphics made especially for the Recipes Committee of the Garden of Friendship by Valatine