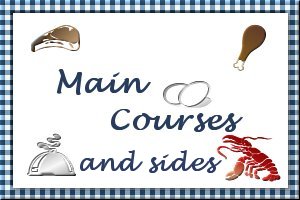 Shrimp Fettucine With Roasted Garlic Sauce
Submitted by: Deelight
1 whole bulb garlic
1 pound shrimp, large, peeled, and de-veined
3 cups half and half (half milk, half cream)
1 cup chicken broth

1 tablespoon cornstarch
6 cups fettucine, cooked
3 tablespoons olive oil
1/4 cup Parmesan cheese
Parsley, chopped
Pre-heat the oven to 350 degrees. Place the whole garlic bulb in a small roasting pan. Just cover with water. Bake about one hour or until about half the water has evaporated and the garlic is soft. Set aside. Put the half and half in a large saucepan. Add the chicken broth. Bring to a simmer over medium heat. Mix together the cornstarch and one tablespoon cold water. Whisk into the sauce. Squeeze the garlic gently from its skin. Whisk into the sauce. Simmer for 10 minutes. Heat the oil in a large skillet. Add the shrimp and cook until just pink. Add the sauce and the cooked pasta. Heat well. Place in bowls. Garnish with the Parmesan and parsley.

Chicken and Caesar Pasta
Submitted by: Lady X
1 tablespoon vegetable oil
1 pound boneless skinless chicken breasts cut into cubes
1 can Campbells Cream of Celery Soup
1/2 cup water
1/3 cup Caesar salad dressing
4 cups cooked linguine
1 medium tomato, diced
1/8 teaspoon ground black pepper
Grated Parmesan cheese
Heat oil at medium-high in large skillet. Add chicken and cook 10 mintues or untill browned. Reduce heat to low. Stir in soup, water, and salad dressing. Heat to a boil stirring occasionally. Cover and cook over low heat untill chicken is cooked through about 5 mintues. Toss with linguine and tomato. Sprinkle with pepper and cheese.

Penne Pasta With Pistachio Pesto Cream Sauce
Submitted by: Luisa
Pesto:
1/4 cup basil, fresh
1/4 cup parsley. chopped
1 teaspoon garlic, minced
1 tablespoon olive oil
1/4 cup pistachio nuts, shells removed
1 1/2 cup cream
1/2 pound penne pasta, cooked

Place the basil, parsley, garlic, oil, and pistachio nuts in a food processor bowl. Pulse until a coarse paste forms. Set aside. Heat the cream in a large skillet. Boil until the cream begins to thicken. Whisk in the pesto. Toss in the cooked pasta. Check the seasonings. Serve warm. Serve this as a side dish or add shrimp to create an entree. Serves 2-4

To submit your favorite recipes to be included in the Garden of Friendship Recipe Book, please email them to Barbiel
Background graphics made especially for the Recipes Committee of the Garden of Friendship by Valatine