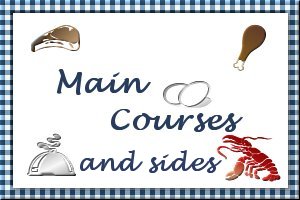 Tri-Colored Pasta with Scallops
Submitted by: Wolfmama
1/3 pound each of 3 different colors of dried pasta
1 stick butter
2 tablespoons shallots, minced
1/4 cup minced parsley
1/2 cup Parmesan cheese, grated
2/3 pound scallops
pepper to taste
1/2 cup heavy cream
Cook pasta in salted water until tender, about 10 minutes. Meanwhile, melt butter and add shallots and saute. Add parsley and scallops for 3 minutes. Season with pepper and do not overcook. Add heavy cream and 1/4 cup Parmesan cheese. Serve on top of pasta with additional Parmesan cheese. Serves 4.

Pasta al Salsice
Submitted by: Wolfmama
2 sausages (can use hot or mild hot or just plain)
1/2 pound prosciutto (preference to thick slice)
1/2 pound bacon (lean)
1 small onion
2 small carrots
saffron (optional)
Chop all of the above into small pieces. Brown the mixture in 1/4 cup oil (olive, sunflower or corn). Add 1/2 to 1/3 cup white wine and simmer. Add either a small chili pepper (diced) or red pepper (sliced) and saffron in small quantity. Use red chili pepper if using plain sausages; if hot or mild hot sausages, you may wish to use only red fresh pepper (sweet and diced) and no saffron. Just before ready to serve the mixture over pasta, add 1 to 1 1/2 cups of any type of lite cream. Serves 4 to 5.
Note: Pasta: May use ziti, spaghetti or twists. Boil one pound to desired softness (hot water, oil). Wash and drain. Mix pasta with the above and add in Parmesan cheese as mixing.

Tuna Pasta
Submitted by: Molly
125 g red pasta
125 g green pasta
125 g natural pasta
salt and freshly ground black peppercorns
25 g organic, pasteurised butter
6 thinly sliced spring onions
2 large organic courgettes, sliced.
175 g halved fresh button mushrooms
175 ml full-fat, organic, pasteurised cows milk
1 tablespoon organic, plain flour
198 g finely tuned tuna, drained.
50 g freshly grated parmigiano reggiano
142 ml organic single cream
fresh basil leaves
In a large saucepan pour 5.1 litres of fresh tapwater and 2 teaspoons of salt. Heat until water fiercely boiling. Add one tablespoon of Olive oil. Gently lower the pasta into the waves. Leave for four minutes, then tip into strong metal colander, shake gently to release any trapped water. Return to empty pan, add a small amount of butter and shake to gloss pasta. Whilst pasta is being scalded the rest of the ingredients can begin to mingle. Take a large, heavy-based frying pan and place on low heat. Allow butter to dissolve on surface. Introduce onions, courgettes and mushrooms. Occasionally circulate whilst allowing to soften and gain colour for 3 minutes. Remove from pan with draining spoon and place on warmed plate. Pour milk into pan. Aerate flour into pan. Whisk milk whilst heating. When milk has warmed and gained body introduce tuna and pamigiano. Remove from heat. Introduce vegetables and cream and circulate them. Sprinkle with salt and pepper. On a warmed plate arrange pasta carefully in formation of Italian flag. Spoon tuna across diagonally. Sprinkle with torn basil leaves.

To submit your favorite recipes to be included in the Garden of Friendship Recipe Book, please email them to Barbiel
Background graphics made especially for the Recipes Committee of the Garden of Friendship by Valatine