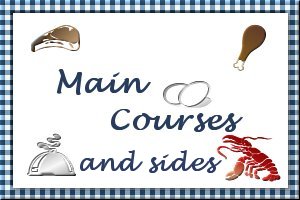 Pepperoni Pasta Toss
Submitted by: Molly
12 ounces penne or mostaccioli pasta, uncooked
2 cups broccoli florets
1 garlic clove, minced
1 small onion, chopped
1 tablespoon Olive oil
1 (14-1/2-oz.) can diced tomatoes, undrained
3/4 to 1 cup pizza sauce
3/4 cup pepperoni slices, quartered (38)
1/2 teaspoon each dried basil, oregano
1 1/2 cups shredded Italian cheese
Cook pasta according to package directions. Add broccoli to pasta water during last 3 minutes of cooking; drain both well. Meanwhile, saute the garlic and onion in Olive oil a couple minutes. Stir in diced tomatoes, pizza sauce, pepperoni and herbs. Simmer 5 minutes. Toss with drained pasta, broccoli and cheese. Top with more cheese or shredded Parmesan and serve hot. Serves 6.

Eggplant and Apple Pasta
Submitted by: Molly
1 large eggplant
1 large cooking apple (Empire, Braeburn, etc)
1 egg, beaten
flour or seasoned bread crumbs (about 2 cups)
Olive oil
2 cloves garlic, crushed
2-3 cups pasta shapes
salt and pepper to taste
Parmesan cheese
Slice the eggplant, sprinkle liberally with salt, and leave in a colander for 30 minutes. Rinse and dry eggplant slices on paper towels and cut into strips. Peel, core, and dice the apple. Toss the eggplant and apple in the beaten egg, and then in the flour/breadcrumbs to give a light coating. Heat some oil in a pan and fry the eggplant, apple, and garlic, stirring until crisp. Meanwhile, cook pasta shapes in plenty of salted water at a full boil until al dente. Add a few drops of oil to the water to prevent the pasta from sticking. Drain well, season with pepper and toss in a little oil. Stir the eggplant mixture into the pasta and serve with Parmesan cheese. Makes 2-3 servings.

Cauliflower-Green Olives-Anchovies Pasta
Submitted by: Barbiel
1 medium cauliflower, in small florets
5 tablespoons Olive oil
2 cloves garlic, finely chopped
1 2oz can anchovy fillets, drained and chopped
3/4 cup green olives, pitted, coarsely chopped
1/2 peperoncino or 1/2 teaspoon red chili flakes, more to taste
1 lb pennette rigate, any small-ridged pasta to catch the sauce
Break cauliflower into tiny florets and cook in lightly boiling salted water till tender. Drain, and keep warm, reserving the cooking water. Add to the pasta water to further flavor the pasta. Place pasta in boiling salted water to cook. Heat the olive oil in a pan over medium heat. Add the garlic, brown lightly. Add the anchovies and mash to a paste with a fork. Add the peperoncino and simmer lightly for 1 minute. Drain pasta when ready. Pour on the hot Olive oil, the cauliflower and the olives. Toss well and serve. Makes 4-6 servings.
Note: You may substitute 1 medium caulifloer for 1 1/2 broccoli broken up. If you have a pasta pot with an inner perforated basket, cook cauliflower or broccoli in that and then simply lift out when vegetable is ready.

To submit your favorite recipes to be included in the Garden of Friendship Recipe Book, please email them to Barbiel
Background graphics made especially for the Recipes Committee of the Garden of Friendship by Valatine