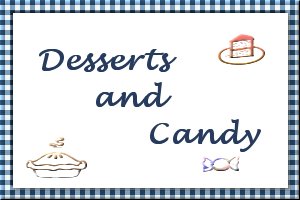 Sweet Potatoe Pie
Submitted by: Lady ~Debbii~
4 or 5 sweet potatoes
1 cup margarine
1/2 cup white sugar
3/4 cup brown sugar
2 eggs
1 teaspoon vanilla
dash of cinnamon

Cook sweet potatoes until done (I pierce mine and cook in microwave.) Let cool until you can handle. Peel and place in bowl with margarine. Mix well. Add sugars, eggs, vanilla, and cinnamon. Pour into unbaked deep dish pie shell. Top with a "crumbly" type of mixture such as: 1/4 cup melted margarine mixed with 2 tablespoons flour and pecans mixed together. Bake 350 degrees 30 to 40 minutes.

Sweet Potatoe Pie with Marshmallows
Submitted by: Lady ~Debbii~
2 deep dish pie crusts
4-6 medium size sweet potatoes
1 1/2 sticks of butter
2 pinches of salt
1 teaspoon of cinnamon
2 pinches of baking soda
1 bag of miniature marshmallows
2 1/2 - 3 cups sugar (sweeten to taste)
1 1/2 teaspoons of vanilla flavor
1 teaspoon of lemon juice
1 tablespoon of nutmeg

Heat oven to 350 degrees. Peel potatoes and slice. Place potatoes in a pot of water. Water should cover potatoes. Boil potatoes until they are tender when you stick them with a fork they should fall apart (should put you in the mind of mashed potatoes). Drain potatoes and rinse well. Mash the potatoes and add butter, sugar, salt, baking soda, vanilla flavor, lemon juice, nutmeg, and cinnamon. Mix all the ingredients very well (mixture should be very, very creamy). Pour mixture into the pie shells. Bake the pies for about an hour or until the pie is firm. The pie will slightly brown. Take the pies out of the oven and cover the entire pies with marshmallows. Put back in the oven and bake for about another 10-15 minutes or until the marshmallows brown a little. Let cool and enjoy.
Note: sometimes after I have mixed all my ingredients by hand, I like to put it in a blender to get the creamy consistency.

Double 9" Pie Crust
Submitted by: Cathie
2 cups sifted flour
1 teaspoon salt
3/4 cup shortening
1/4 cup water
Sift flour before measuring; spoon lightly into measure cup and level without shaking or packing down. Combine flour with salt. Using pastry blender or knife cut in shortening until uniform; mixture should be fairly coarse. Sprinkle with water (a tablespoon at a time) toss with a fork. Work dough into 2 parts and press into flat circles. Lightly flour pastry cloth and roll each into circles.

To submit your favorite recipes to be included in the Garden of Friendship Recipe Book, please email them to Barbiel
Background graphics made especially for the Recipes Committee of the Garden of Friendship by Valatine