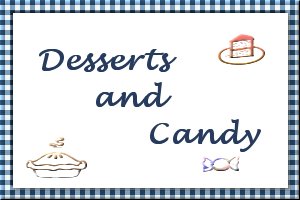 Peanut Butter Pie I
Submitted by: Cricket
1 graham cracker crust
1/3 cup peanut butter
1 cup confectioner's sugar
4 oz softened cream cheese
8 oz cool whip
chopped peanuts (optional)
Mix all ingredients, except peanuts, until well blended. Pour into graham cracker crust and sprinkle with chopped peanuts. Chill about 2 hours before serving.

Lemon Custard Tart
Submitted by: Wolfmama
Crust:
1 1/2 cups flour
1 teaspoon salt
1 1/2 teaspoons sugar
1/2 cup vegetable oil
2 tablespoons milk
9" tart pan (with removable bottom)
Filling:
3 eggs, separated
1 1/2 lemons
1 can condensed milk
1/8 teaspoon salt
Preheat oven to 325°F.
Crust: Mix together 1/2 cup vegetable oil and 2 tablespoons of milk. Pour over flour mixture. Stir until no dry flour is left. Press dough into tart pan.
Filling: Beat the egg yolks. Add grated rind and juice of lemons condensed milk and salt. Mix together. Beat egg whites until stiff and then fold into lemon mixture. Pour into unbaked crust. Bake tart for 40 minutes.

Blueberry Delight
Submitted by: PrayingBear
Crust (below)
Layer (below)
Blueberry Layer (below)
Top Layer (below)
Crust:
22 Graham crackers, broken into crumbs
2-3 tablespoons sugar
enough cold margarine to make crumbs stick together
Cream cheese
Layer:
1-8 ounce package cream cheese
1-8 ounce carton whipped topping
1/3 cup confectioner's sugar
Blueberry Layer:
1 can blueberry pie filling
Top Layer:
one 8 ounce carton whipped topping
Making the Pie:
Mix ingredients for crust and press into a 9x13" pan. Mix 1 carton of the whipped topping together with the Cream cheese and confectioner's sugar for about 2 minutes at medium speed. Spread on top of crust. Spead the blueberry pie filling on top of the Cream cheese layer. Spread the other carton of whipped topping on top of the blueberry layer. Chill until serving time, and chill any leftovers.

To submit your favorite recipes to be included in the Garden of Friendship Recipe Book, please email them to Barbiel
Background graphics made especially for the Recipes Committee of the Garden of Friendship by Valatine