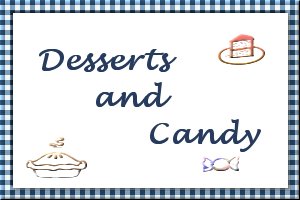 Chocolate Peanut Butter Pie
Submitted by: Praying Bear
4 (9-inch) graham cracker pie crusts
1 1/2 cups icing sugar
1 package (8 ounces) Cream cheese
2 large packages chocolate instant pudding
1 cup peanut butter
5 cups milk
2 containers (8 ounces each) cool whip
1 container (12 ounces) cool whip
Combine Cream cheese and peanut butter in large bowl. Beat at medium speed until light and fluffy. Gradually add the two (8 ounces) containers of cool whip and powdered sugar. Continue to beat until smooth. Spoon filling evenly into prepared pie crusts. Freeze one hour until firm for Pudding Layer.
Pudding Layer: In large bowl, pour in milk and add chocolate pudding mix. Beat until smooth and creamy. Spoon pudding evenly on top of peanut butter layer in each crust. Freeze 1 hour until firm for Whipped Topping.
Whipped Topping: Take the 12 ounce container of cool whip and spoon evenly over each pie. Sprinkle with chocolate sprinkles. Freeze overnight.

Cranberry Apple Pie
Submitted by: Praying Bear
1 1/2 cups cranberries
1 1/2 cups sliced cooking apples
1/2 cup water
1 cup sugar
1 teaspoon lemon juice
pastry for 2 crust pie
Cook cranberries, apples and lemon juice in water until tender. Add sugar and cool slightly. Line pie plate with pastry and pour in cranberry apple filling. Cover with top crust and vent, crimping edges, or make a lattice design with 1/2-inch strips. Bake at 450°F for 10 minutes. Reduce heat to 350°F and bake 30 to 40 minutes longer.

Italian Banana Pie
Submitted by: Barbiel


90 g of cane sugar
10 cl sunflower seed oil
2 eggs
4 bananas, crushed
1 teaspoon of grated lemon rind
175 g wheat flour (integral)
1 1/2 teaspoons baking powder
1/4 teaspoon pepper powder
60 g oatmeal flour
1/2 teaspoon Vanilla extract
175 g of yogurt
confectioner's sugar (garnish)
Grease a rectangular form of 22 x 18 cm. Preheat oven to 180°C. Beat eggs, sugar and oil very well, then add the bananas and the rind of lemon. Add flour, baking powder and pepper powder. Add oatmeal, stirring with a spoon. Place dough at oven and bake for 30 minutes or until when the cake becomes hard and swollen Let it rest until cool. Remove cake from form and control that all sides are uniforms. Cut cake in 4 slices. To make the Filling combine yogurt and the banana, mixing very well. Alternate one slice cake then Filling (see picture). The last layer is covered with confectioner's sugar.

To submit your favorite recipes to be included in the Garden of Friendship Recipe Book, please email them to Barbiel
Background graphics made especially for the Recipes Committee of the Garden of Friendship by Valatine