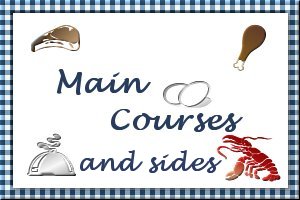 Grilled Ham Steak
Submitted by: Brenda
1/4 cup apricot or plum preserves
1 tablespoon prepared mustard
1 teaspoon lemon juice
1/8 teaspoon cinnamon
2-3 ham steaks

Mix all in sauce pan; cook and stir over low heat until thoroughly combined, about 2-3 minutes. Grill ham steaks 8-10 minutes per side, brushing with glaze during last few minutes of grilling.

Southern Style Pork Loin Chops With Gravy
Submitted by: Dee
4 8 ounce pork loin chops, boneless
1 1/2 cups flour
2 teaspoons pepper
1/2 teaspoon salt
2 tablespoons oil
2/3 cup milk
1/4 cup beef broth
1/4 cup chicken broth
Preheat the oven to 300 degrees. Placing the pork in a moderate oven after browning makes them very tender. Mix together the flour, salt, and pepper. Heat the oil in a heavy skillet. Dredge the pork in the seasoned flour. Place in the skillet until well browned, turning once. Place in an oven ready pan and put in the oven. Sprinkle 2 tablespoons of the flour into the skillet. Whisk well and cook three minutes. Slowly whisk in the broths and milk. Reduce the heat to low and simmer 20 minutes, stirring frequently. Remove the pork and top with the gravy.

Deviled Pork Chops
Submitted by: Kathie
6 rib or blade chops
1 onion, finely chopped
2 tablespoons lemon juice
1 teaspoon dry mustard
1 tablespoon brown sugar
4 tablespoons chili sauce or catsup
2 teaspoons Worcester sauce

Remove most of the fat from chops and set aside. Soak chops 1 hour in a marinating misture made of the remaining ingredients. Melt and brown reserved fat in frying pan. Drain chops, brown on both side in fat, then add marinating mixture. Cover and simmer over low heat - 1 hour for rib chops. Serves 4. This is a flavorful dish very nice served with spinach and mashed potatoes.

To submit your favorite recipes to be included in the Garden of Friendship Recipe Book, please email them to Barbiel
Background graphics made especially for the Recipes Committee of the Garden of Friendship by Valatine