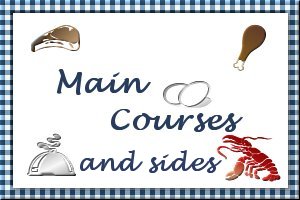 Easy Mushroom Garlic Pork Chops
Submitted by: Cricket
6 boneless pork chops
1 16-oz can of chicken broth
2 10-3/4 oz cans golden mushroom soup
2 tablespoons minced onions
1 tablespoon garlic salt
some fresh pepper to taste (optional)
Mix all ingredients in large saucepan with lid or Dutch oven. Cover and cook over medium heat, simmering and stirring often for 1 hour. Makes 6 servings.

Smoked Pork Tenderloin
Submitted by: Wolfmama
1 or 2 pound pork tenderloin
2 cups orange juice
1 cup Soy sauce
1/2 cup grated ginger
3 tablespoons cracked black pepper
2 cups crushed peanuts
Marinate pork for 24 hours. Remove pork from marinate and roll in crushed peanuts. Smoke pork over aromatic woodchips until cooked. Slice thin and serve. Makes 4 servings.
Note: Very good as an appetizer or entree.

Plum Delicious Pork Cutlets
Submitted by: Wolfmama
2 pounds boneless pork cutlets, 1/2" thick
2 tablespoons vegetable oil
2 (8 ounces) jar plum jelly or preserves
one onion, diced
1/2 cup wine vinegar
4 teaspoons Soy Sauce
2 teaspoons ground ginger
salt and pepper to taste
Heat oil in large skillet over medium-high heat. Brown cutlets on both sides. Add remaining ingredients. Cover and simmer 10-12 minutes. Serves 4.

To submit your favorite recipes to be included in the Garden of Friendship Recipe Book, please email them to Barbiel
Background graphics made especially for the Recipes Committee of the Garden of Friendship by Valatine