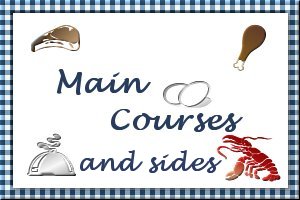 Asian Style Braised Ham Steak
Submitted by: Merribuck
1 pound, 1 inch thick ham steak
1/4 cup light soy sauce
1/4 cup dry Sherry wine
1 to 2 tablespoons butter or vegetable oil
1 teaspoon minced fresh ginger
1/4 cup water
salt and freshly ground black pepper
1/4 cup finely sliced green onions
Remove rind and trim off all but 1/4-inch of outer fat. Score the fat edge at 1-inch intervals so the steak does not curl during cooking and divide ham steak into 2 serving pieces. Marinate ham in soy sauce and sherry wine. Remove ham from marinade. Reserve marinade. Dry the ham steak and lightly brown in butter for a minute or 2 on both sides. Add ginger, water and reserved marinade to the skillet and bring to a boil. Cover and cook for 5 minutes or until heated through. Remove ham to a serving platter. Boil the liquid down until syrupy and season to taste with salt and pepper. Stir in the scallions and spoon sauce over steak. Yield: 2 servings.

Crock Pot Ham
Submitted by: Merribuck
1 teaspoon. horseradish (I used 2)
1 teaspoon dry mustard
1/4 cup Coca Cola
1/2 cup brown sugar
5 lb. ham
Cut ham into large chunks, approximately cigarette pack size, removing visible fat. Mix remaining ingredients in a bowl, and pour over ham. Stir to wet all the pieces of ham. Cook on low setting 7-8 hours. Serves 4-6.

Pork Chops with Wild Mushrooms
Submitted by: Merribuck
2 teaspoons oil
2 (1-inch) thick pork rib chops
1/2 cup chicken stock
1/4 cup Madeira
1/2 pound assorted wild mushrooms
2 teaspoons butter
splash of cream
2 tablespoons fines herbes
(mixture of equal parts chopped chives, chervil, parsley and tarragon)
Preheat oven to 400°F. Heat 2 teaspoons oil in a heavy skillet over medium-high heat. Sprinkle pork with salt and pepper. Add pork to the skillet and saute until brown, about 3 minutes per side. Remove from heat and transfer the pork to a square baking dish. Add the chicken stock and madeira to the skillet. Place over medium-high heat. Boil until reduced by half, scraping up browned bits, about 6 minutes. Pour over the pork. Clean and slice the mushrooms. Heat 2 teaspoons butter in the pork skillet. Add mushrooms to the skillet and saute until softened and brown. Bake pork until tender, about 25 minutes. Transfer pork chops to serving plates. Place sauce over heat. Add mushrooms and a splash of cream into the sauce and bring to a boil. Stir the fines herbs into the sauce just before serving, reserving some to sprinkle over the pork chops. Spoon sauce over the pork chops. Sprinkle with more fines herbs. Yield: 2 servings

To submit your favorite recipes to be included in the Garden of Friendship Recipe Book, please email them to Barbiel
Background graphics made especially for the Recipes Committee of the Garden of Friendship by Valatine