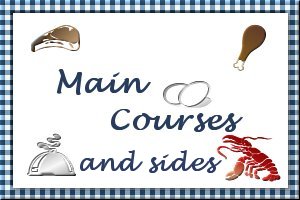 Roasted Pork Tenderloin on Bed of Red Cabbage
Submitted by: Merribuck

3 pork tenderloins (about 1 1/2 pounds)
2 teaspoons kosher salt
1/2 teaspoon freshly ground black pepper
3 tablespoons Olive oil
Bourbon Glaze (recipe below)
Braised Red Cabbage (ecipes below)
Special equipment: an ovenproof skillet
Preheat the oven to 400°F. Season the pork with the salt and pepper. Heat the Olive oil in an ovenproof skillet over high heat and sear the pork on all sides. Place the skillet into the oven and roast the pork for 8 to 10 minutes. Let the meat rest for 5 minutes before cutting. Slicing on a diagonal, cut each tenderloin into 4 or 5 pieces. Serve with Bourbon Glaze and Braised Red Cabbage.
Bourbon Glaze:
1 tablespoon Olive oil
2 shallots, chopped
2 cloves garlic, chopped
2 cups brown sugar
3/4 cup balsamic vinegar
1/2 cup red wine
1/2 cup apple cider
2 teaspoons green peppercorns (*Note)
1 bay leaf
1 cup seeded and chopped plum tomatoes
1/2 cup chopped red bell pepper
5 sprigs Italian parsley
3 tablespoons soy sauce
1 1/2 ounces Bourbon
In a medium pot heat the oil over medium heat and add the shallots and garlic, cook until soft, but not browned. Add the brown sugar, balsamic, red wine, apple cider, green peppercorns, bay leaf, tomatoes, red peppers, parsley and Soy sauce. Simmer until reduced by 1/2. Strain the sauce and add the Bourbon. Serve warm over sliced pork tenderloin or chops. Yield: 2 cups
Braised Red Cabbage:
1 tablespoon Olive oil
3 large onions, thinly sliced (about 2 pounds)
1/4 teaspoon ground cinnamon
1/4 teaspoon ground cloves
1/4 teaspoon ground cumin
1 small red cabbage, thinly sliced (about 1 pound)
1/4 cup apple cider
1/4 cup brown sugar
1/4 cup red wine vinegar
In a large pot heat the olive oil over medium-high heat and saute the onions until soft. Add the cinnamon, cloves, and cumin and cook for 30 seconds. Mix in the cabbage and saute for 5 minutes, until wilted. Add the cider, sugar and vinegar. Cover and braise over low heat until the cabbage is tender, about 20 minutes. Serve warm.
*Note: Green peppercorns can be found at specialty food stores.

Title
Submitted by:
Ingredients
Ingredients
Instructions

Title
Submitted by:
Ingredients
Ingredients
Instructions

To submit your favorite recipes to be included in the Garden of Friendship Recipe Book, please email them to Barbiel
Background graphics made especially for the Recipes Committee of the Garden of Friendship by Valatine