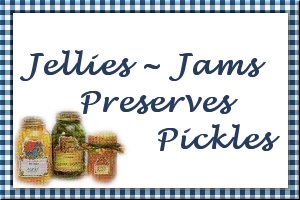 Cabbage Relish
Submitted by: Cricket
4 pounds cabbage
4 large onions
1 1/2 large bell peppers
1 1/2 large red peppers
2/3 cup kosher salt
2 cups sugar
2 cups white vinegar
1 teaspoon pickling spice
1/2 teaspoon celery seed
Remove outer leaves from cabbage and cut out core. Cut into quarters. Peel and quarter onions. Cut peppers in half and remove seeds. In a food processor fitted with metal blade, shred cabbage, chop peppers, and chop onions, in batches, removing each vegetable to a large ceramic bowl as it is done. Stir all vegetables together. Stir in salt. Add ice water to cover. Cover bowl with plastic wrap and let stand overnight. Combine sugar, vinegar, and spices in a medium saucepan and bring to a boil. Drain vegetables in colander. Pack vegetables in sterile pint jars, pour vinegar mixture to fill jars. Seal and process in boiling water bath for 10 minutes.

Cranberry-Orange Relish
Submitted by: CajunSue
2 cups raw cranberries
1 large orange
1/4 cup sugar
Put cranberries through meat grinder or food processor (they should be finely chopped). Peel orange (save rind) and remove seeds and white membrane. Put orange and orange peel through grinder. Mix all ingredients together and store in covered container in the refrigerator. Refrigerate several hours before serving.

Sweet Onion Relish
Submitted by: CajunSue
4 3/4 cups chopped Vidalia or other sweet onion
1 cup thinly sliced Vidalia or other sweet onion
1/4 cup minced celery
1/2 cup sugar
1/4 teaspoon salt
1/2 teaspoon celery seeds
1/8 teaspoon pepper
1/2 cup cider vinegar
1/4 cup water
2 ounces diced pimiento, drained
Coat a large saucepan with cooking spray; place over medium-high heat until hot. Add onions and celery, and sauté 10 minutes or until tender. Stir in sugar and remaining ingredients; bring to a boil. Reduce heat, and simmer, uncovered, for 25 minutes, stirring frequently. Let cool. Spoon into a bowl; cover and chill 8 hours.

To submit your favorite recipes to be included in the Garden of Friendship Recipe Book, please email them to Barbiel
Background graphics made especially for the Recipes Committee of the Garden of Friendship by Valatine