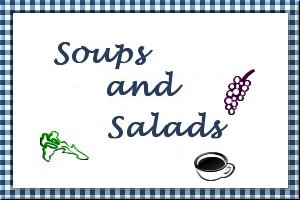 Shrimp Salad
Submitted by: Vadi
3 tablespoons butter
1/4 cup all-purpose flour
2 cups heavy cream, divided
2 ounces freshly grated Parmesan cheese
2 tablespoons dry sherry
1/2 teaspoon paprika
2 cups cooked crabmeat
1 cup peeled cooked shrimp
1 1/2 cups garlic-flavored croutons
1/4 cup fresh parsley
4 tablespoons melted butter
Preheat oven to 350°F (175°C). In a large saucepan over medium heat, melt 3 tablespoons of butter. Remove from heat and whisk in flour. Pour in 1/2 cup of heavy cream and whisk well, return to heat. Add cheese and stir until creamy. Remove from heat and pour in remaining cream. Stir in sherry, paprika, crabmeat, and shrimp. Spoon mixture into 6 large individual ramekins. In a food processor or blender, blend together croutons and parsley. Top each filled ramekin with crouton mixture. Drizzle melted butter over the top. Bake in preheated oven for 20 minutes or until top is browned and bubbly. Serves 6.

Fruit Salad
Submitted by: Vadi
2 kiwis, peeled and diced
2 Golden Delicious apples, peeled, cored and diced
8 ounces raspberries
1 pound strawberries
2 tablespoons white sugar
1 tablespoon brown sugar
3 tablespoons fruit preserves, any flavor
10 (10 inch) flour tortillas
butter flavored cooking spray
2 cups cinnamon sugar
In a large bowl, thoroughly mix kiwis, Golden Delicious apples, raspberries, strawberries, white sugar, brown sugar and fruit preserves. Cover and chill in the refrigerator at least 15 minutes. Preheat oven to 350°F (175°C). Coat one side of each flour tortilla with butter flavored cooking spray. Cut into wedges and arrange in a single layer on a large baking sheet. Sprinkle wedges with desired amount of cinnamon sugar. Spray again with cooking spray. Bake in the preheated oven 8 to 10 minutes. Repeat with any remaining tortilla wedges. Allow to cool approximately 15 minutes. Serve with chilled fruit and spice mixture. Serves 4-6.

Antipasto Pasta Salad
Submitted by: LisaW
1/2 lb shell, bow-tie
1/4 lbs Genoa salami slices, chopped
1/4 lbs pepperoni slices, chopped
1/4 lbs Italian sharp cheese, diced
6 oz. can chopped black olives, drained
1 small red bell pepper, seeded, diced
1 small green bell pepper, seeded, diced
1 medium ripe tomatoes, chopped
1 packet Italian salad dressing mix
3/4 cup extra virgin Olive oil
1/4 cup balsamic vinegar
2 tablespoons dried oregano
1 tablespoon dried parsley
1 tablespoon grated Parmesan cheese
salt and pepper to taste
Cook the pasta in a large pot of salted boiling water until al dente. Drain and cool under cold water. In a large bowl, combine the pasta, salami, pepperoni, cheese, black olives, red bell pepper, green bell pepper and tomatoes. Sprinkle on the envelope of powdered dressing and mix thoroughly and refrigerate salad. Whisk together the Olive oil, balsamic vinegar, oregano, parsley, parmesan cheese, salt, and pepper. Just before serving, pour dressing over the salad and mix well. Serves 4-6.

To submit your favorite recipes to be included in the Garden of Friendship Recipe Book, please email them to Barbiel
Background graphics made especially for the Recipes Committee of the Garden of Friendship by Valatine