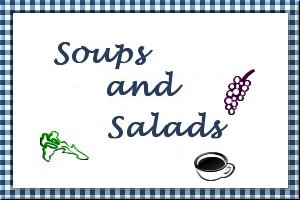 Big Taco Salad
Submitted by: LisaW
3 lb ground beef
3 each envelopes taco seasoning
mix 3 heads lettuce, shredded
3 cups shredded cheddar cheese
3 cups chopped tomatoes
2 cups chopped onion
3 cans chopped or sliced ripe olives
(drained, 4-1/4 oz - each)
2 cans Ranch or chili beans, drained
1 lg bag corn chips
1 bottle (16 oz.) Catalina salad dressing
1 jar (12-oz) salsa
Brown beef, drain. Add taco seasoning and prepare according to package directions. Cool. Toss with remaining ingredients in a large plastic bag or container. Yield: 45 servings.

Spinach Salad
Submitted by: LisaW
1 1/2 lb spinach leaves, fresh
1/4 lb large mushrooms, fresh
2 tablespoons lemon juice
3 tablespoons Wine vinegar
3/4 cup Peanut oil
salt and black pepper, freshly ground
2 teaspoons Mustard, prepared
1 garlic clove,peeled/halved
4 bacon slices
(cooked until crisp, drained, and crumbled)
Trim off and discard tough stems and bruised spinach leaves. Drain, wrap in damp paper toweling, and refrigerate until ready to use, at least several hours. When ready to use, spinach will be dry and crisp. Trim and slice mushrooms diagonally. Place in nonmetal bowl, add lemon juice, and toss to blend. Cover and refrigerate until ready to use. Combine remaining ingredients except crumbled bacon. Beat until blended. Refrigerate until ready to use. Beat dressing just before using.To serve, combine spinach leaves, mushrooms, and dressing, add crumbled bacon, and serve at once. Yield: 8 servings.

Eleven Layer Salad
Submitted by: LisaW
1 head iceberg lettuce, shredded
1 cup fresh parsley, chopped
4 eggs, hard cooked, chopped
1 large red pepper, sliced
4 carrots, sliced
1 cup olives, sliced
3/4 lb green beans, cooked, sliced
1 teaspoon dill
1 cup radishes, sliced
3/4 lb sharp Cheddar cheese, shredded
1/16 lb bacon, crisply cooked, chopped
1 red onion, sliced
Dressing:
2 cups Mayonnaise
1/2 cup parsley; chopped
1/2 cup Sour cream
2 tablespoons sugar
1 teaspoon dried basil
1 teaspoon dried dill
Salad - have ready a 3-qt. glass bowl or souffle dish. Arrange the lettuce on the bottom. Sprinkle with all but 2 tablespoons of the parsley, making sure it comes to the edges of the bowl. Continue layering with the eggs, red pepper, carrots, olives, green beans, dill, radishes, Cheddar cheese, and bacon. Finish with a layer of the sliced red onion. Yield: 6 servings.
Dressing - whisk together the dressing ingredients. Spoon 1/2 of the dressing over the salad and spread evenly. Sprinkle with the reserved parsley. Cover tightly and refrigerate from 6 to 12 hours. Serve with the additional sauce on the side.

To submit your favorite recipes to be included in the Garden of Friendship Recipe Book, please email them to Barbiel
Background graphics made especially for the Recipes Committee of the Garden of Friendship by Valatine