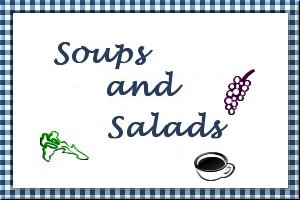 Mendocino Chicken Salad
Submitted by: Lady Lynda
1 (6 ounce) package smoked chicken breast, skin removed, cubed
1 cup seedless grapes, halved
1/2 cup diced red onion
3 stalks celery, diced
1/4 cup fresh basil leaves, cut into thin strips
1 cup blanched slivered almonds
In a large bowl, combine the smoked chicken, grapes, red onion, celery, basil, almonds and mayonnaise. Mix well; chill and serve. Makes 6 servings.
Note: This is a delicious smoked chicken salad with almonds and fresh basil. Serve it over lettuce or on a sandwich.

Five Cup Fruit Salad
Submitted by: Lady Lynda
1 cup fruit cocktail, drained
1 cup mandarin orange segments, drained
1 cup pineapple chunks, drained
1 cup Sour Cream
1/2 cup shredded coconut
1 cup rainbow colored miniature marshmallows
Combine the fruit cocktail, mandarin oranges and pineapple chunks in a large bowl. Fold in the Sour Cream and coconut. Chill. Just before serving, stir in the marshmallows and serve. Makes 8 servings.
Note: Cool and refreshing fruit salad. The sour cream adds a creamy tang.

Buttermilk Fruit Salad
Submitted by: Lady Lynda
1 (20 ounce) can crushed pineapple, with juice
1 (6 ounce) package apricot or peach flavored gelatin mix
2 cups buttermilk
1 (8 ounce) container frozen whipped topping, thawed
Place the pineapple in a medium saucepan, and bring to a boil. Stir in the gelatin mix until completely dissolved. Remove to a bowl, and chill until partially set, about 1 hour. Stir in buttermilk, and chill again until thickened. Fold in whipped topping, and refrigerate until firm, at least 4 hours. Makes 8 servings.
Note: A tangy pineapple and peach flavored gelatin salad.

To submit your favorite recipes to be included in the Garden of Friendship Recipe Book, please email them to Barbiel
Background graphics made especially for the Recipes Committee of the Garden of Friendship by Valatine