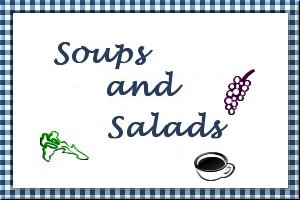 Swiss Cheese Salad
Submitted by: Barbiel

300 g any semi-hard cheese carefully smoked
400 g tomatoes

500 g fresh broccoli
200 g red peperoni

1/2 cucumber

250 g spring bulbs
2 cloves garlic, minced
mint leaves and parsley for garnish

Seasoning:
fresh ground peper to taste

Cayenne pepper to taste

Cajun seasoning to taste

Sauce:

200 gr natur yougurth

50 gr Sour cream

2 tablespoons lemon juice

50 ml vegetable oil

Sauce: Mix all ingredients together, drop over salad.

Cut cheese in not too small dices. Wash broccoli, cut in small pieces and blanch in a pan with some water. Remove, let it cool and reserve. Peel and dice cucumber. Dice tomatoes and peperonis. Cut spring bulbs in rings and then in thin strips. Make Sauce. Combine all Seasoning and Sauce. Mix cheese dices and vegetables (broccoli, tomatoes, cucumber, peperonis and spring bulbs). Garnish with mint leaves and parsley. Makes 4 servings.
Note: You my substitute semi-hard cheese for any other cheese your preference (Emmental, Gouda, Gruyère, etc... spicy or not... its your choice...).
You may also substitute spring bulbs for green onions...

Strawberry and Spinach Salad
Submitted by: Barbiel
1/2 teaspoon toasted sesame seeds
6 cups fresh spinach leaves, torn
2 cups fresh strawberries, rinsed, dried, hulled
Dressing (recipe below)
Dressing:
1/4 cup salad oil
2 tablespoons red wine vinegar
1 1/2 tablespoons sugar
1/2 teaspoon dried dill weed
1/8 teaspoon onion powder
1/8 teaspoon garlic powder
1/8 teaspoon dry mustard
In a large bowl, toss spinach with sesame seeds. Prepare strawberries, cutting large ones in half. Add strawberries to salad. Cover and refrigerate. Combine dressing ingredients in a screw-top jar or shaker; shake well then refrigerate to chill. Pour chilled dressing over strawberry and spinach salad mixture in bowl and toss gently to distribute well.

Corn Bread Salad
Submitted by: Barbiel
1 skillet or pan of cornbread, baked and cooled
7 to 9 slices bacon, cooked until crispy, drained and crumbled
1/2 cup chopped onion
1/2 to 1 cup green bell pepper, chopped
2 large tomatoes, chopped
1 to 2 hard-cooked eggs, chopped
1 cup mayonnaise, or to moisten
salt and pepper, to taste
Crumble corn bread; add bacon, onion, peppers, tomatoes, and hard-cooked eggs. Gently stir in mayonnaise until well moistened, as much or as little as desired. Taste and add salt and pepper, to taste. Chill for at least a few hours, until serving. Serves 6 to 8.

To submit your favorite recipes to be included in the Garden of Friendship Recipe Book, please email them to Barbiel
Background graphics made especially for the Recipes Committee of the Garden of Friendship by Valatine